5 against 2 with trade zone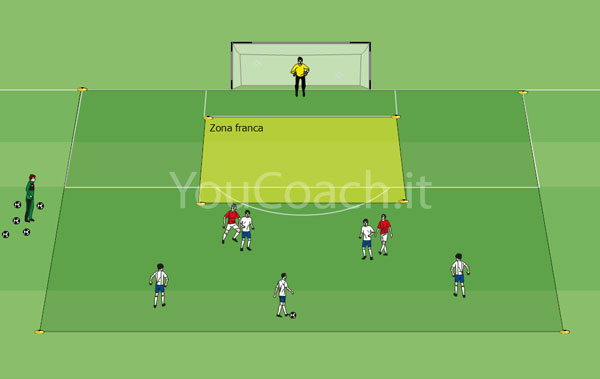 Enough markers to delimit the pitch
4 markers for the "Trade zone"
1 goal
Sufficient balls for continuity
2 vests for defenders
Playing area: 40x30 meters
Players: 7+1 goalkeeper
Duration: 20 minutes
Series: 2 series of 8 minutes with a 2 minutes pause of recovery between series
Organization
In the middle of a short side of the pitch place a goal. Close to the goal, in the center of the pitch make an area of 15x10 meters (Trade zone) with 4 markers. Inside the pitch place 3 midfielders with 2 forwards against 2 defenders. No player can place himself in the trade zone.
Description
To the coach's signal the 5 attacking players start possessing the ball against the 2 defenders. A 5vs2 is set
The objective of the exercise is that one of the forwards has to get into the trade zone through an in depth move, to receive the ball, while the defender contrasts him (See picture)
Defenders cannot enter the trade zone
The forward can remain a maximum of 3 seconds in the trade zone before receiving the ball
The forward that receives the ball inside the trade zone must end the action as soon as possible
After each series the game starts all over again from the 5 attacking players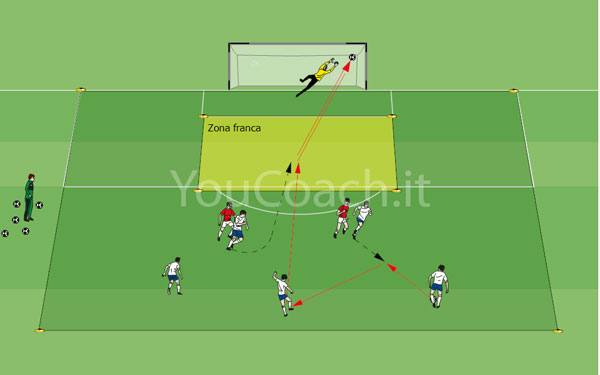 Variations
One of the 3 midfielders can enter the trade zone
Coaching Points
Ask players not to stand on the same line, to guarantee the equilibrium at the end of the combination
Guarantee always two passing options to the teammate that has the ball
Players that have the ball, once they have executed the pass, must move in order for them to become useful again
Give priority to forward passes, towards the players that are beyond the ball line
To be standing still can only be acceptable if it is a certain tactical action
The two players that do not have a ball can execute the change in position either vertically or horizontally
Pay attention to the in depth pass towards the trade zone. It should be executed with the proper strength to be able to help the forward end the action under the best conditions.