Ball possession 4 against 2 with 3 teams - Barcelona FC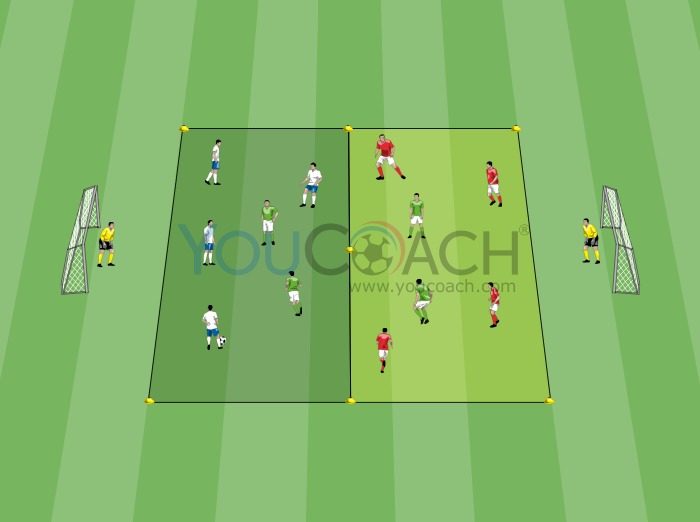 Markers
Sufficient balls for continuity
2 nets or 4 poles
8 vests (4 red y 4 green)
Playing area: 30x24 meters
Players: 12 + 2 goalkeepers
Running time: 18 minutes
Series: 2 series of 7 minutes with a 2 minutes pause of passive recovery 
Organization
Create two playing areas, one next to the other, of 12x12 meters using the markers. At 5 meters from the end of both fields place the nets. Make 3 teams with 4 players each using vests to distinguish them ( 4 red, 4 white and 4 green). In one of the playing areas 4 white against 2 green. One of the white players starts dribbling. In the other playing area you have red players against the other 2 green players. Goalkeepers defend their goals.
Description
To the coach's signal the white team starts the game possessing the ball on numerical superiority against the 2 green players
The aim of the team that possesses the ball is to execute 5 consecutive passes, trying to avoid any interception from the 2 green players. After they are done with the 5 passes, white team gives the ball to red team on the opposite field (See picture) 
If during the possession one of the 2 green players intercepts the ball they can shoot to goal being helped by their mate if needed
If the ball gets to the opposite field after 5 consecutive passes, the one who receives the ball must keep doing the exercise trying to keep possession
After the series is done, green players are going to be the ones possessing the ball, on the other hand, those who lost possession become forwards, their team is now going to be divided, two of them go to one of the playing areas and the other 2 to the other one.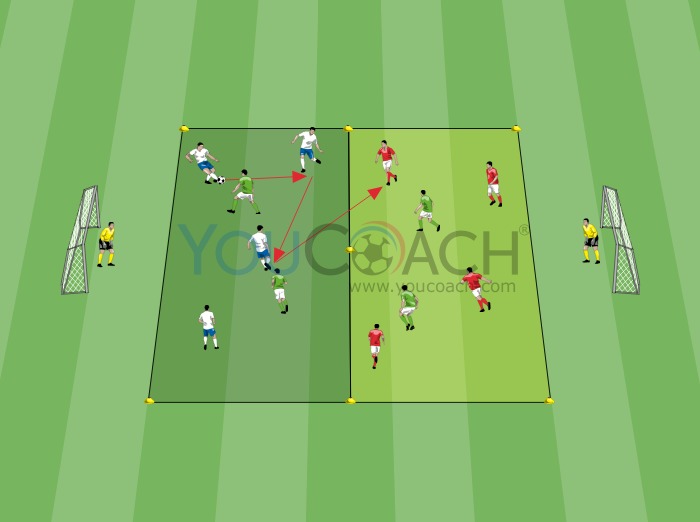 Coaching Points
Creating possession triangles is very useful to avoid opponents
Work on the reaction whenever possession is lost, after the ball is lost, the closest player must put some pressure on the adversary while the other teammates close the distance
Work on the overall distance between teammates
Train body orientation when receiving the ball, it should always be facing the wider part of the field
Minimum ideal union: The player who has the ball must have at their disposal, a minimum number of teammates that can guarantee him a pass whenever they wants (At least one forwards and one backwards)
The closest player to the one who possesses the ball must choose the right thing to do, and the adequate in-depth and approaching movements 
Encourage players to execute the movement to get a clever run and the consequent reception of ball
To be able to get a seamless mobility, two close players (who should be on the same line), must move in such a way that they can create horizontal passing lanes 
Use the right nets according to the age of the players