How to take a lateral free kick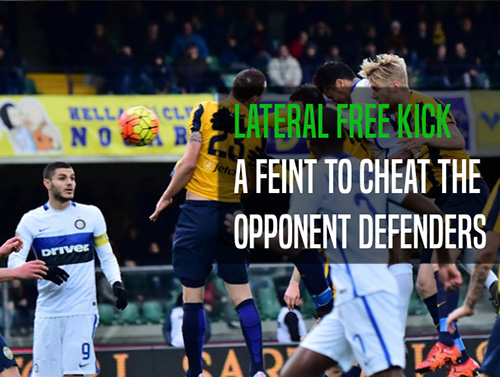 Play scheme: Lateral free kick with feint to cheat the opponent defenders
Let's analyse the  buildup for taking a  free kick played by Del Neri's Hellas Verona, which are coming back to the Italian Serie A  and don't deny their excellent preparation and care for details.
In this situation the team perform a simple but effective play scheme that will lead to Pisano's goal against Mancini's Inter.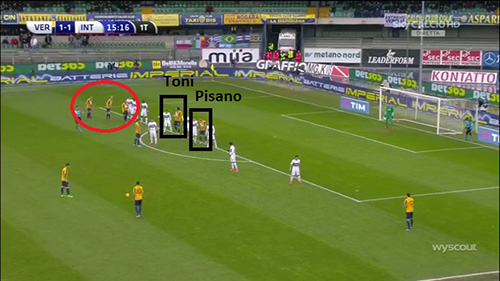 The starting arrangement consists in placing 9 players: 2 players ready for kicking, 1wide , 1 in an offside position, and 5 players ready to enter with a group of 3 players, while Toni and Pisano are positioned in the zone next to the ball, and slightly offside in order to avoid being marked.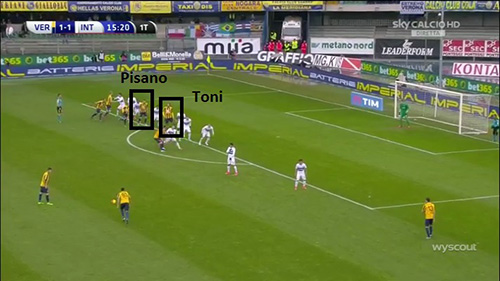 During the preparation of the free kick Pisano changes position and shifts behind Toni. The three loose players are ready to attack the goal.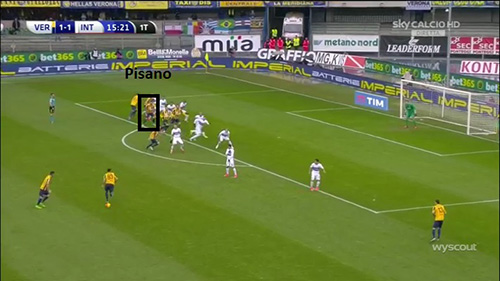 The first step of the scheme envisions a feint kick by Fares, who runs over the ball without kicking. This move troubles  Inter's defenders that are compelled to move back. The advantage is due to the defensive line created by Mancini's team that loses time on the ball: the first players stay inactive, while the last players of the line move back in order to cushion the moves of the opposition that in the meantime have attacked the goal. Pisano keeps waiting and gains time on the real kick.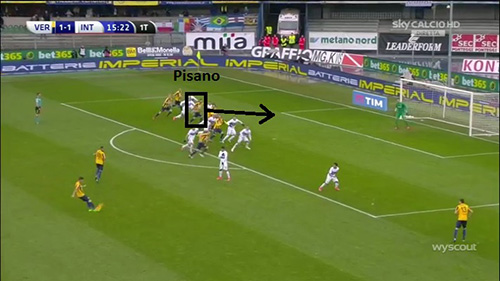 When Marrone kicks the ball Pisano is attacking the goal with right timings while Inter's players have entered in advance and slow down their running.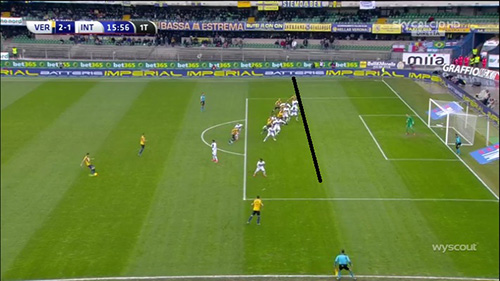 No player of Hellas is offside; in this picture we can see that the members of Inter's defensive line are completely misaligned.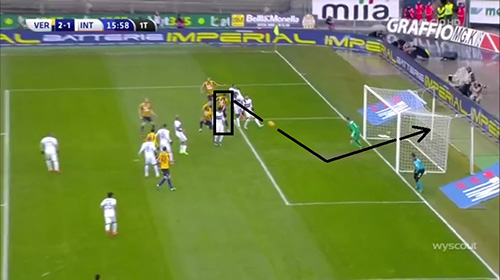 Pisano arrives running behind Toni's back with the right timings and succeeds in scoring undisturbed. Most valuable is also the technical move he makes to crush the ball in front of Handanovic and make him miss the right time for diving.
This excellent scheme has the merit of being simple and very efficient to obtain a small but potentially decisive advantage.