Losing your marker and counter-attack, an angled run in front of the defender and a precisely timed finish: Ljajic's goal in Tim Cup (Coppa Italia)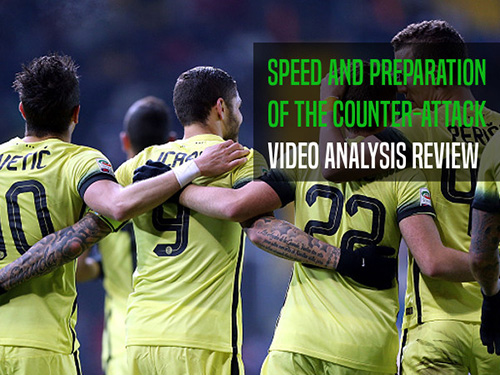 Let's review Ljajic's Goal in Coppa Italia which brought Mancini's Inter (Milan) to victory against Sarri's Napoli
In this post we decided to comment on the most debated match of the week. Not because of the play or goals, but because of the post game flare up between the coaches of Napoli and Inter (Milan) during the Tim Cup's quarterfinals.
We're starting at the 91' minute. Free kick 40 meters away, for Napoli. Inter is defending with a line of 8 players and 2 in front in case of a short pass or to pick up the second ball.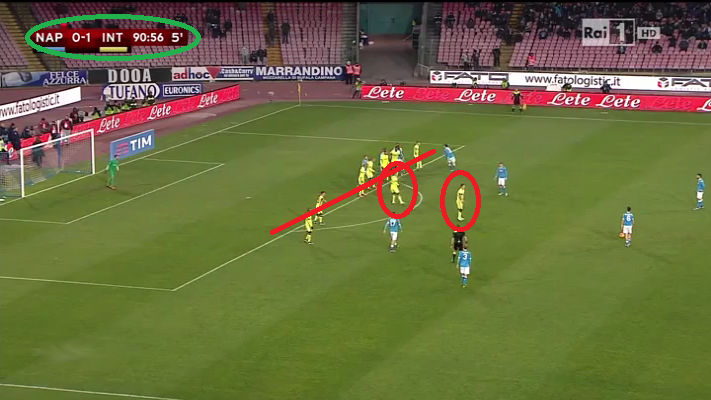 The ball is crossed into the box. Let's start from this frame to see the behaviour of the player who is going to score: Adem Ljajic. He sees the ball arriving and starts to lose his marker in anticipation of a counter.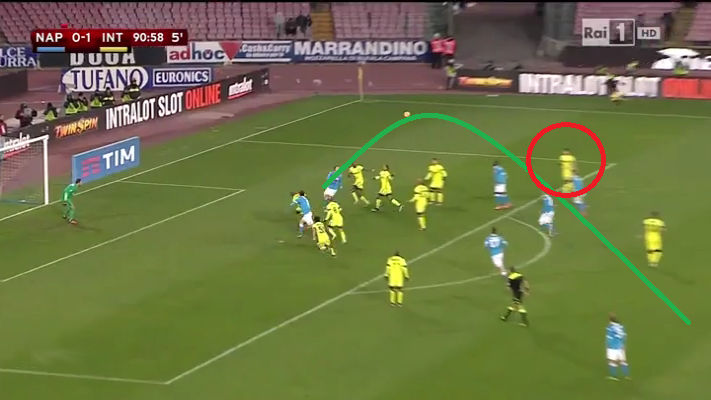 The ball is cleared by the good Inter defense. Now 6 of Napoli's players are in front of the ball and out of the action.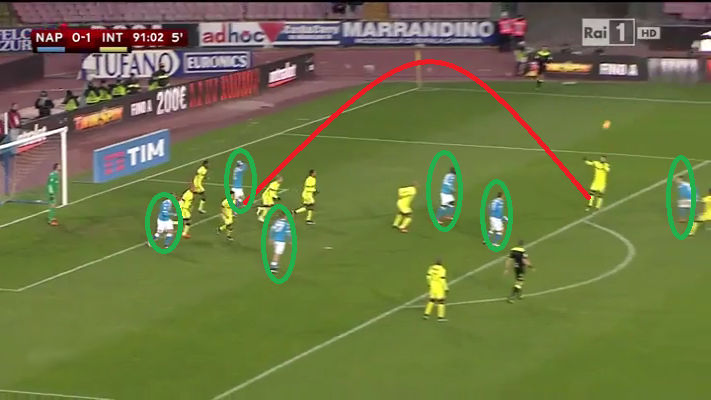 The ball falls to Jovetic, who also like Ljajic, loses his marker. The Neapolitan defensive line is not perfect and commits to the ball-carrier leaving an open corridor.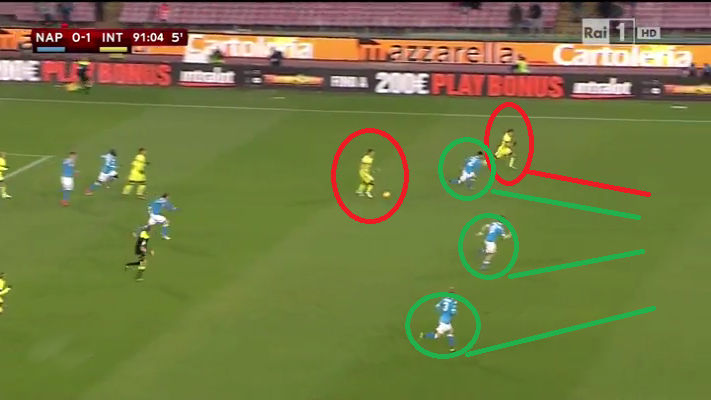 Ljajic attacks the space and gets the perfect pass by his Montenegrin teammate.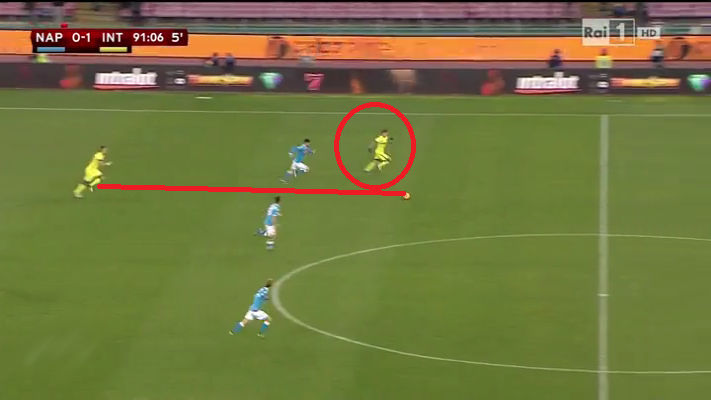 Ljajic's technical skills and speed are important, but note the run across the defenders path which is not easy but critical in forcing the defender to change his run to intervene. This kind of running must be taught in the youth sectors: 1v1 chasing down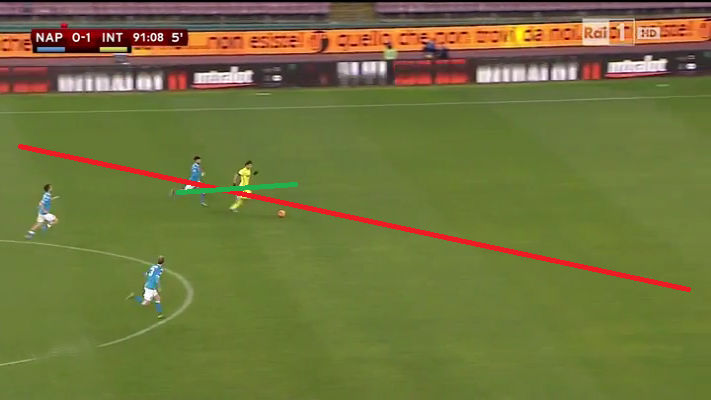 Now the duel is favouring the striker, who harnesses all his skills in preperation for his shot on goal. Also the incredible supporting run of the other Inter player Biabiany should be noted.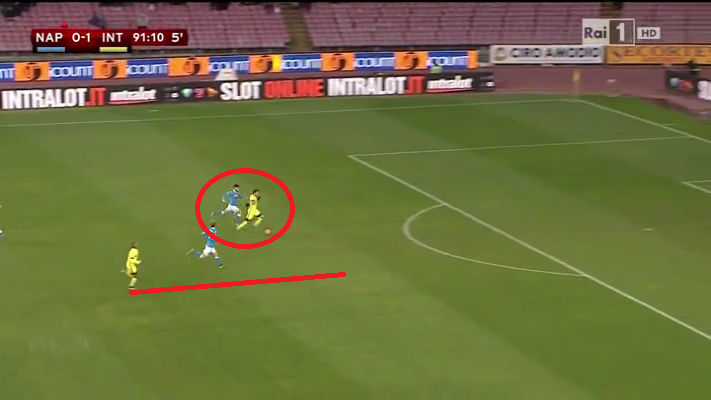 The player who is carrying the ball is usually disadvantaged despite the good angle of his run, but  in this case Ljajic is perfect. With perfect timing (just before the tackle of the defender, and before the goalkeeper closes him down) he scores beating Reina with a clinical finish.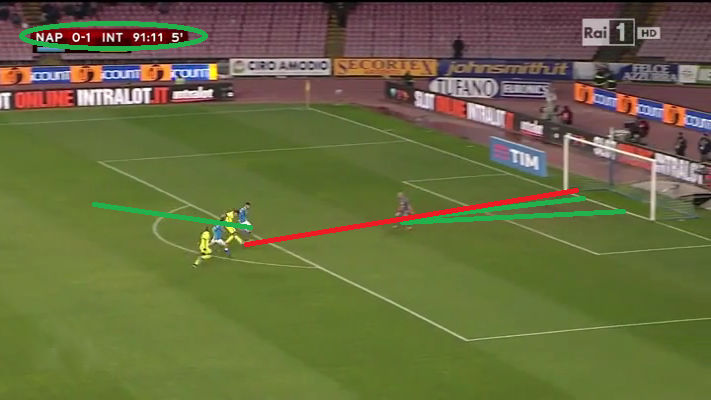 It may seem a conventional goal that any man could score in the eyes of a casual spectator, but it is not true. The angled run and the timing of the run and finish were critical. Ljajic won this duel with the skills he has learned throughout his career. Youth sectors, let's learn!