Possession playing in tight spaces: 4 vs 4, attracting opponents to create space. Banega scores on Sevilla's possession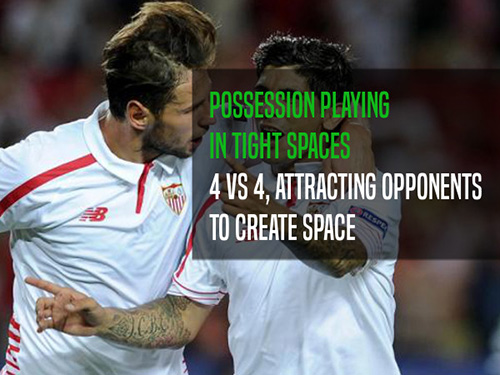 Let's view the Match Analysis of Banega's goal scored on Sevilla's possession triangles.
Sevilla-Las Palmas. Unay Emery's team wins 2-0 in the last championship match. Sevilla, in white shirts, on 23' of the second half has not yet succeeded in taking the lead in spite of excellent possession. This is because of the very good defensive arrangement of Las Palmas and ineffective and lower possession.
In the second half Sevilla's possession is much higher. On 68' it builds up a 4 vs 4 situation in a field area about 25 x 25.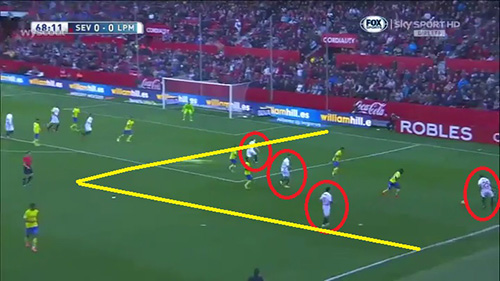 From maximum width the ball passes on Banega's feet. Vitolo, a teammate of the Argentine player gives the internal support. Las Palmas is arranged very well. The defensive square is very well placed.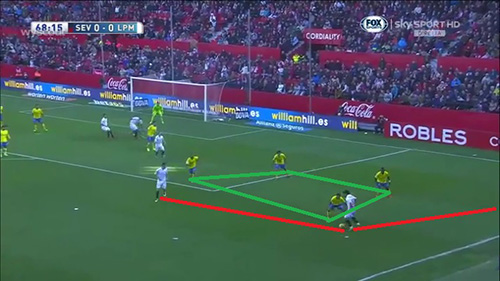 Banega passes to Vitolo and attacks the centre of the defensive square of Las Palmas.Vitolo attracts two defenders and plays to the strong Argentine midfielder.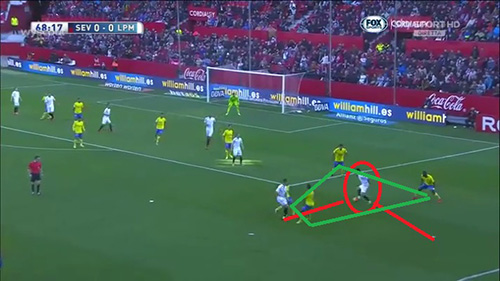 A new possession triangle is created with Banega at the vertex. Ball played on Vitolo again. Notice the distancing of the player in Las Palmas red circle ready for a counter. In this situation it is an excellent tactical choice, but it doesn't calculate the technical skills of Emery's boys.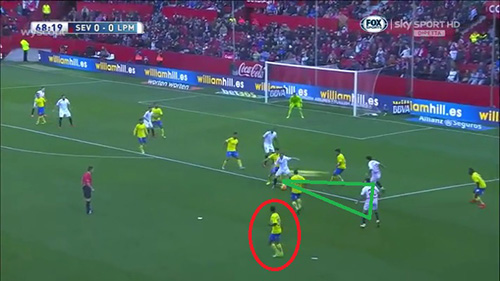 A short interchange Benega, Vitolo attracts Las Palmas defenders who closely narrows the space to defend.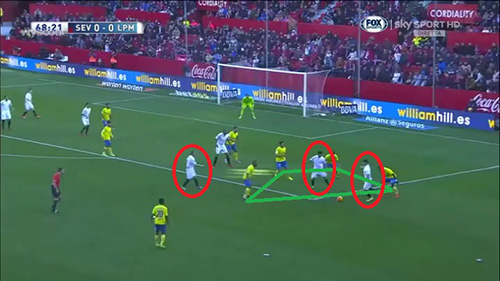 In a very narrow space Benega get out. Possession has resulted in attracting many players in a more and more tighter space. At this point, he attacks a new space that inevitably widens.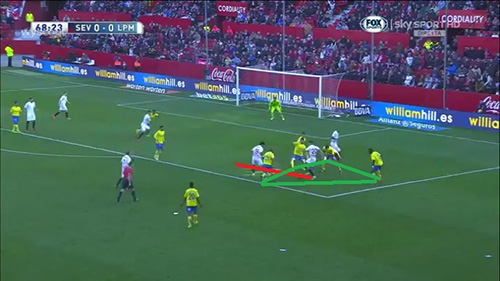 The Argentine player receives the ball from Vitolo and shoots with the left foot. A  goal with a wonderful construction and quality of finishing.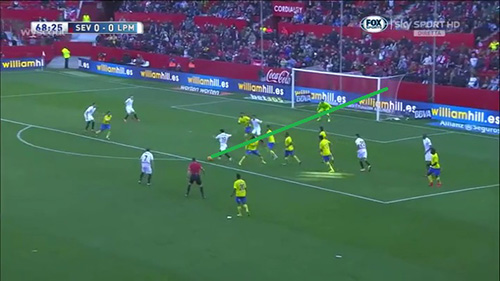 We often wonder why it is so necessary to train young players in tight spaces: positive aspects are innumerable, no need to list them here.  Certainly, the management of this 4 vs 4 based on attracting opponents in a space and then attacking in another one is crucial.