Speed and cognitive activation – 8 cones
8 cones (4 orange, 4 yellow)
2 markers
Playing area : 15x10
Players: 18
Duration:15
Series:3 series of 4 minutes with 1 minute of passive recovery
Organization
Create a playing area and place a starting marker. At a distance of 5 m place the cones in 2 lines of 4 cones each, one line per colour, 8 m apart from each other. At a distance of 5 m from the lines place the arrival marker. The players line up at the starting marker.
Description
The players sprint and run around the cones in the sequence indicated by the coach
At the end of the sequence the players sprint to the arrival marker and jog back to the starting point.
Example
The coach indicates the sequence to be followed: ORANGE-YELLOW-YELLOW-ORANGE (as in the figure)
The player sprints and turns around the cones as indicated
The player ends the exercise arriving at the finishing marker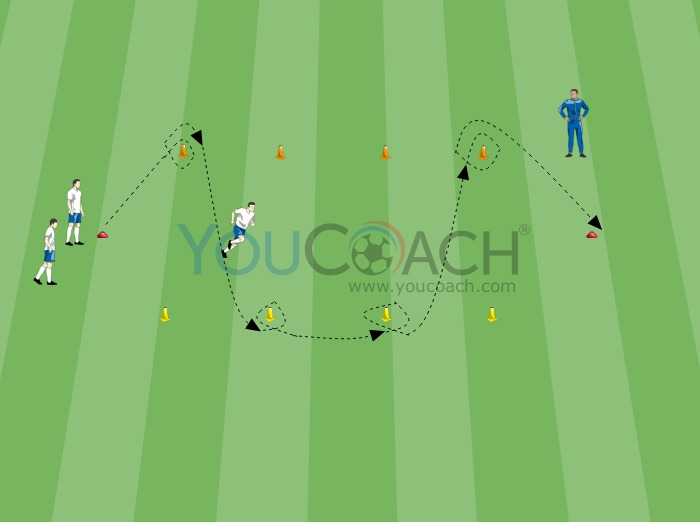 Variations
Alternate colours and coordinates (RIGHT-LEFT)
Enlarge the size of the playing area
Ask for different speeds between the cones
Introduce the ball so the player mst dribble at speed
Coach can call out also the direction the player must go around the cone clockwise or anti-clockwise
Coaching Points
The exercise must be performed at maximum speed
Remind the players to use short steps when turning around the cones