Johan Cruyff, an emblem of "total football"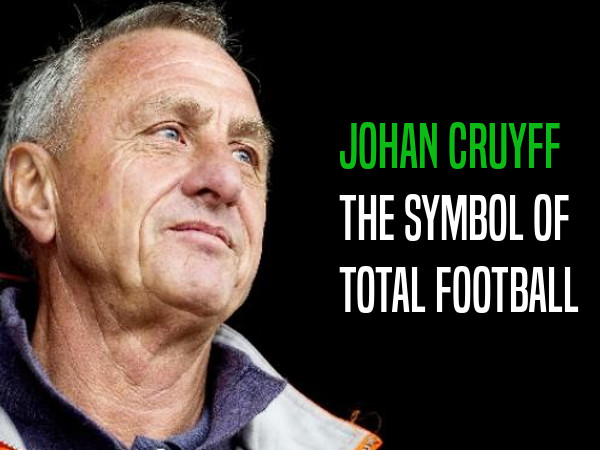 A Tribute to Johan Cruyff, an emblem of the new player and then a revolutionary coach
Johan Cruyff has revolutionised soccer embodying the concept of "total football", playing in depth or covering when necessary, going further to the sides and coming back to his centre role depending on the on-field situation. In "total football" all players take an active part in constructing attacking moves and in defensive coverage, thus widening both collective and individual technique and tactics.


Total football is a style of play in which any player who changes position is immediately replaced by a teammate, thus allowing their team to keep their tactical structure unchanged. According to this playing scheme, no player is fixed in their own role and during the match anyone can equally play as an attacker, a midfielder or a defender (Wikipedia).
The first team that adopted this concept on the field was Ajax between the late '60s and early '70s. The manager of this team was Rinus Michels. Under his management Ajax won two consecutive Champions Cups in 1971 and 1972. The players of this team formed the basis of the Dutch national team that in 1974 World Championship surrendered only to the West Germany team.
Johan Cruyff was the symbol of that team and of total football, because he could play in any zone of the field with the agility of a winger, the strength of a midfielder and the efficacy of a striker in the goal area. And all that with a touch of refined class that made him one of the strongest players in soccer's history.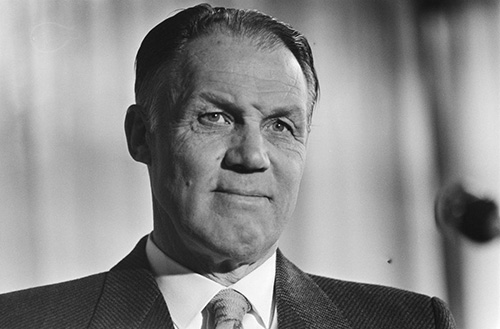 Although Cruyff has never played in the Italian championship he had a strong impact on the top teams in Italy. "Total football was built up on a new theory of flexible space, during the attacking phase, the teams used to expand the field as much as possible and restrict the space during the defensive phase (David Winner). This was exactly the opposite of the Italian "catenaccio" (closed defence system). 
After the two Champions cups they won against two Italian teams (1972 Inter, 1973 Juventus), Ajax' total football had eclipsed the "catenaccio". In Italy, after the failures of Pippo Marchioro at Milan, Gigi Maifredi at Juventus and Corrado Orrico at Inter, soccer was revolutionised by a coach who had never played as a pro: Arrigo Sacchi.
Coming back to these days, Barcelona's play 4-3-3 is a legacy of Johan Cruyff, their coach between 1988 and 1996: possession and speed, verticalization and  short passes in restricted space, interchangeable attackers and, above all the midfielder playmaker shifted to the side, a concept that Rijkaard first and then Guardiola (Cruyff's playmaker) will resume with Xavi. Xavi's figure as the emblem of blaugrana mentality is reported in our article : Cruyff, Xavi and blaugrana's attitude.
Cruyff effect at Barcellona
Cruyff chose Barcelona to become the greatest coach of all time. He won the Liga four consecutive times from 1990 to 1994, the "Coppa delle Coppe" in 1989, the "Coppa del Re" in 1990, the "UEFA Supercup UEFA", "UEFA Champions Cup" in 1992 and 3 "Supercups of Spain": 11 trophies in total.
However he wasn't great just for the trophies, more especially for his playing system, style and training methods that was argued. It was the "Rondo" training style (a kind of pig in the middle).
For the very first time in a training session player stayed in a circle passing the ball between themselves. One player staying at the centre of the circle would try to intercept the ball. During the exercise the circle was gradually restricted reducing timings and spaces.
Cruyff knew that soccer starts when there is a ball, and that's what a team needs to win: to maintain the ball possession. He started coaching and developing a group of midfielders who understood that playing system. But development doesn't happenat the highest levels. Even if Cruyff trained players such as Josep Guardiola, Michael Laudrup, Goikoetxea, Txiki Begiristain, Hristo Stoichkov, Jose Mari Bakero, Romario, Ronald Koeman and Gheorghe Hagi, the development happened on the youth field. That kind of players such as Xavi, Andres Iniesta, Cesc Fabregas, Mikel Arteta and Luis Milla, were trained and brought up on Cruyff philosophy that was to create clever midfielders and not racehorses with blinkers on, or killer lumberjacks. His players would have passed the ball, thought or run more only to give an advantage to the team, attacking or defending.
An example of "Total football" practice