TLm
Training Load Monitoring
Digital Assistant for Phisical Trainer
Training Load Monitoring is a fundamental tool for all Soccer Coaches and Athletic Trainers. With TLm you can manage all aspects about training load control and check the quality of your team's and single player's recovery. Thanks to quick features and real-time results, you can collect training load data with Borg Scale CR10, examine the results through customizable charts and share them with your staff. Would you like to learn the recovery level of your players? It's easy with our Hooper feature. Through 5 simple questions about sleep quality, general fatigue, stress level, muscle soreness and willingness to train, you will easily find out (even before a training session) which players recovered completely and which didn't. Training Load Monitoring takes care of all the aspects and a series of alerts can help you identify immediately the players with whom you will have to be careful.
Why choose TLm
Created by professionals. Created with the best technologies. Equipped with the best tools.
Fully integrated in YouCoachApp
Do you need to combine the technical-tactical aspects with athletic work? TLm is fully integrated in YouCoachApp and can give you infos about your players' fitness level.
Available anytime, anywhere
Manage your training sessions' load and the quality of recovery from a computer, tablet or smartphone with one account.
Save precious time
Save time by entering your data directly on your team's page. You won't need pen and paper anymore.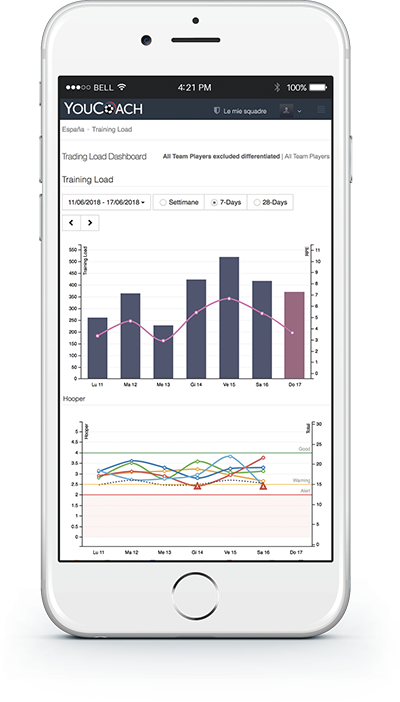 Get detailed analytics
By entering your work and attendance for matches and training sessions you will get detailed analytics for the team and single players.
Player's alert
A series of alerts will help you check on players who entered their data and, according to scientific studies, are experiencing poor recovery or fatigue.
View detailed statistics
No more excel spreadsheets and complicated calculations. With a few clicks you will control everything in real time.
Enter and analyse data easily
With Hooper feature each player can use their smartphone to answer a questionnaire about the quality of recovery. At the end of the workout, they can quickly enter their perceived exertion with Borg Scale CR10. Charts and graphs made up from this data are clear and let you save time with the analysis of numbers. Results are calculated according to the latest scientific studies and are always updated in real time. You can customize data display to your needs and also compare two players or more.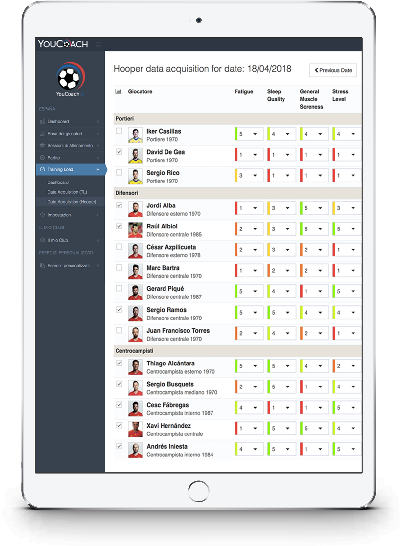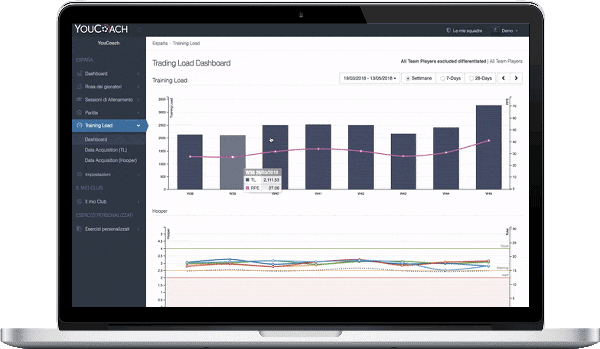 Easy-to-use and effective tools
Internal load tracking tool with Borg Scale CR10

Recovery quality analysis with Hooper index

Single player's training load calculation and analysis

Possibility to customize training duration for specific players

Week-to week TL percentage changes

Alert for dangerous situations

Calculation and customization of the acute:chronic workload ratio

Suitable for every coach and athletic trainer, professional and non professional
Different ways of using TLm
You can use TLm to fill in data about a match or a training session in three different ways::

1. Players can give their RPE value using their personal YouCoach account on the app (available for iOS and Android);
2. Players fill in their RPE value in the locker room after the event, through a specific mode (locker room mode) on the app that allows to choose your profile from a list and fill in the RPE scale for the event;
3. The coach collects RPE values from players and fills them in on the app.

Hooper can be filled in only with mode 1 and 3 from the previous list, because it could be associated not to an event but to a specific day of the week.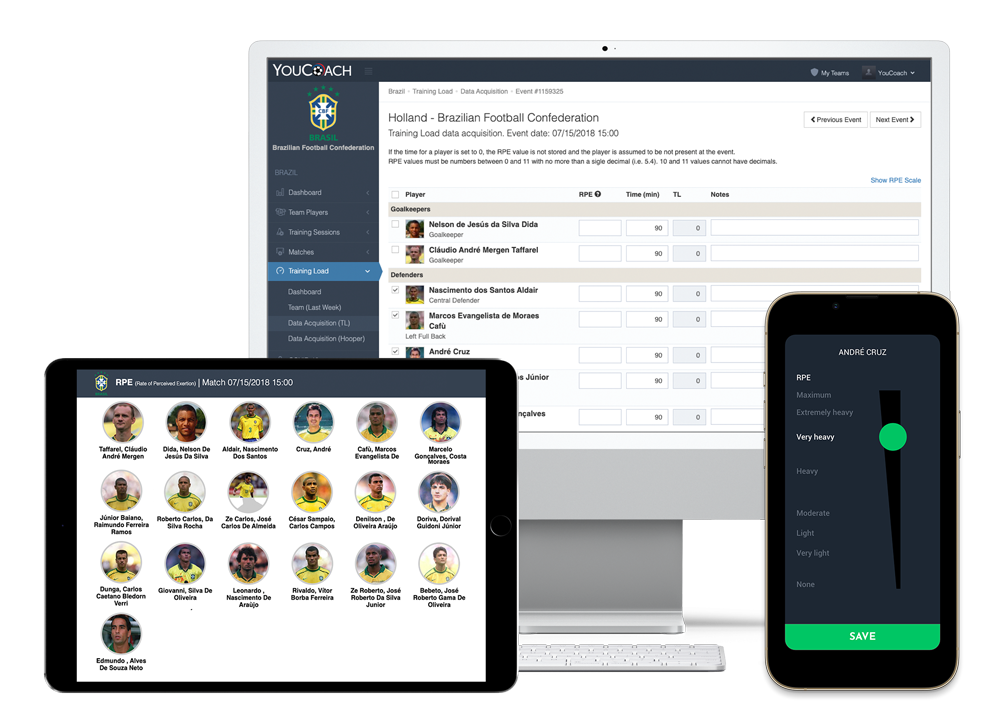 Training Load Monitoring subscription plans
Choose the best plan for you
By purchasing TLM you get YouCoach 12-month subscription included. The price varies depending on the number of events you can create during the 12 months subscription. By event we mean a training session or a match. If a subscription has insufficient events available, you can always upgrade it
Subscription and TLm Entry level
Up to 190 events (about 4 per week)
1 team on YouCoachApp
RPE and Hooper data management
Locker room mode
Manage team and staff members
Export training sessions as PDF
Access to drills progressions
Animated drills
Subscription and TLmPRO
Up to 250 events (about 5 per week)
1 team on YouCoachApp
RPE and Hooper data management
Locker room mode
Manage team and staff members
Export training sessions as PDF
Access to drills progressions
Animated drills
Subscription and TLmUNLIMITED
Unlimited events
1 team on YouCoachApp
RPE and Hooper data management
Locker room mode
Manage team and staff members
Export training sessions as PDF
Access to drills progressions
Animated drills
Are you a Club version subscriber? Do you need to use TLm for more teams? Contact us for an estimate at info@youcoach.it