Ball possession - The 4 areas
Sufficient balls for continuity
4 poles
7 vests 
Some markers
Playing area: 60x55 meters
Players: 14 + 1 goalkeeper
Duration: 18 minutes
Series: 2 series of 7 minutes with a 2 minutes pause of passive recovery between series
| Summary | Secondary Objectives |
| --- | --- |
| Ball possession game with 4 different areas for shooting, useful to train various tactical aspects, such as looking for a space, change of game, unmarking and then some technical aspects, such as shooting, lofted ball and headers | Header, Losing your marker, Pass, Long pass, Cross, Finishing, Shooting, Shooting from long distance ground level, Finish from close range, Volley shooting nearly, Marking, Goal defense, Intercepting, Switch play |
Organization
Use half of a pitch for the exercise. In the playing area make a square of 7,20x7,20 meters using 4 poles. Each side of the square represents a goal. In front of each goal make an area of 27x10 meters using the markers (ZONE 1, ZONE 2, ZONE 3, ZONE 4). Divide the team into 2 groups of 7 players using the poles and place them inside the playing area. A goalkeeper defends the 4 goals.
Description
In the exercise a 7vs7 situation is set, with 4 goals being defended by the same goalkeeper
The winning team will be the one that scores the most goals at the end of each series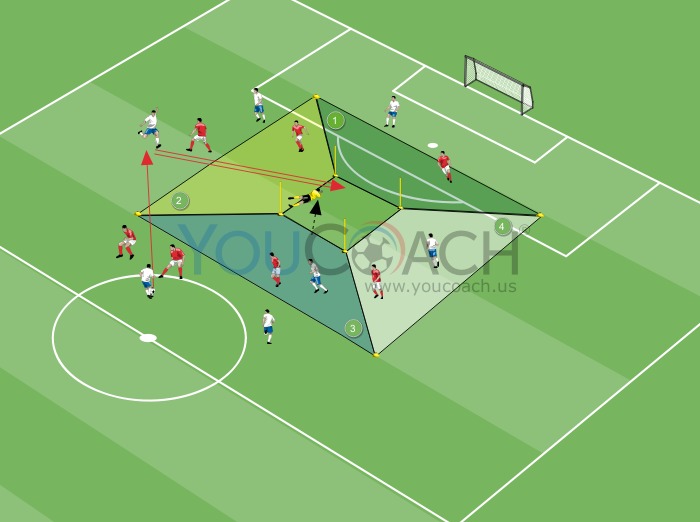 Rules
The goal is valid if:

Zone 1: Goal valid if shooting comes after a lofted ball
Zone 2: Goal valid only if players shoot from outside the area (See picture)
Zone 3: Goal valid only at first touch from inside the areao
Zone 4: Goal valid only if players shoot from outside the area

Limit of touches: 3
The goal is valid after the team executes 5 consecutive passes
Players can play inside the areas with no time constraints
Only the goalkeeper can pass the ball inside the central square to defend the 4 goals
Variations
Change the different modalities of execution inside each area.
Coaching Points
Create possession triangles, they are useful to avoid opponents
Work on reaction of the negative transition, once the player loses the ball, the closest player to the ball, presses the opponent while their teammates get closer
Work on the distances between players
Work on orientation of the body during the reception, it should always be facing the widest part of the pitch
Encourage the touch and go: After playing the ball to a teammate, the player continues their race to go to an empty space an receive the ball again
Minimum ideal unity: The player that has the ball must always have available a minimum number of teammates that can guarantee him a pass at any time (At least one forwards and another backwards)
The player that is closer to the one that possesses the ball must choose what to do, approaching or in depth move
To accomplish a continuous mobility and keep the propper staggering, two close players who are on the same line either vertical or horizontal have to move, creating diagonal passing lanes