Exercise: double shooting!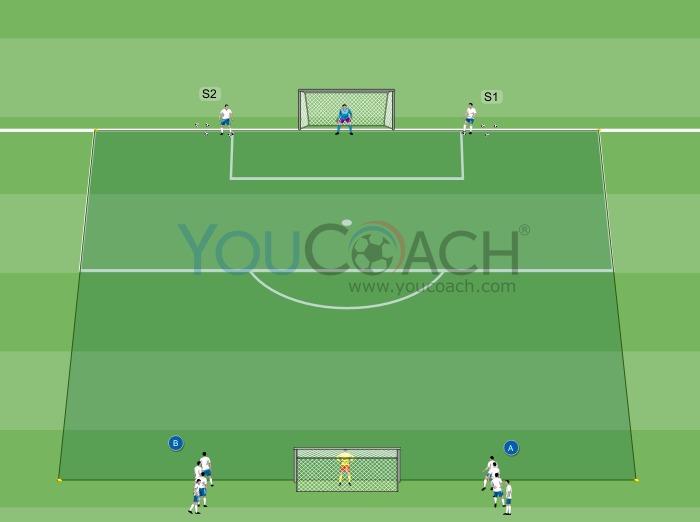 Playing area: 40x40 meters / 44x44 yd
Players: 12 + 2 goalkeepers
Duration: 15 minutes
Series: 4 turns per player
Organization
Create a 40x40 meters pitch using markers. Place two goals on opposite sides, as shown in the picture. Divide the team into two groups (A and B) of five players each and place them to the left and to the right of one goal. Place one player near each goalpost (S1 and S2) of the opposite goal. Goalkeepers defend the goals. Keep a good amount of soccer balls near S1 and S2.
Description
At the coach's signal, player A sprints towards player S1
Player S1 passes the ball to player A
Player A supports S1 on first intention
Player S1 gives back the ball to A who moved to A1 towards the center of the pitch
Player A performs an oriented control facing the goal behind him and shoots at goal with the left foot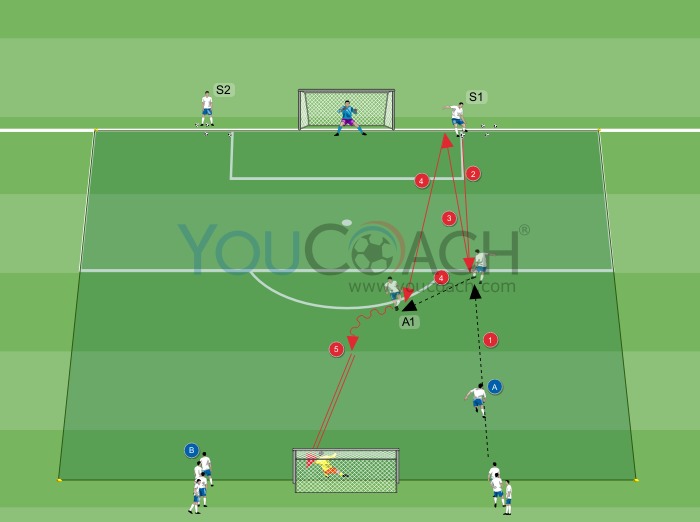 Player A then sprints towards A2
Player S2 passes the ball to player A
Player A shoots at goal at first touch with the right foot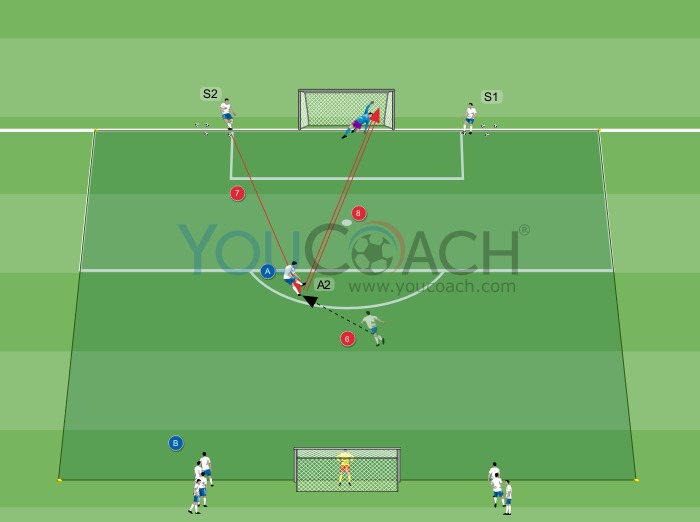 Once the sequence is complete, all players swap positions
The first player of group B can start the exercise on the opposite side

Rules
Each player shoots at goal twice, once per goal
Group A: first shot with the left foot and second at first touch with the right foot
Group B: first shot with the right foot and second at first touch with the left foot
At the end of the first series swap starting positions of the groups
Variations
Players must shoot with the instep 
Place poles in front of the goals to simulate opponents, so players can train how to lose a marker
Coaching Points
Player must pay attention to the supporting foot, it should be close to the ball
The foot that shoots must impact the center of the ball with the instep
Players must keep their eyes on the ball
Keeping the arms open allows more stability
Players S1 and S2 must pass the ball as accurately as possible in order to make it easier for the teammate to shoot at goal
Monitor players' posture when they receive the ball