Print out your training sessions and go into the pitch!
| | |
| --- | --- |
| Print out your training sessions and go into the pitch! | |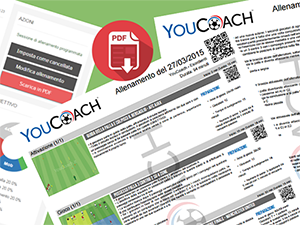 Summary
MyCoach allows you to print your workouts in PDF and take them with you to the pitch. Find out how!
With MyCoach you can create your own workout, choose the exercises based on the season objectives and thanks to the fact that you can print them in PDF you can easily take them to the pitch! Thanks to the QR codes, which can be found in the printed page, you can access the exercises, check the full descriptions and modify your sessions directly from your preferred device! From your tablet or your phone, downloading any of the free apps that read the QR Codes, you are going to be able to access the web page of your workouts or of your exercise in a matter of seconds and discover all of the useful information or related exercises to propose to your team!
The printing of the training sessions collects all the useful information needed to optimize timing and spaces in the most proper manner, knowing before hand all the materials and tools that are going to be used during each exercise.
Would you like to have a preview of the weekly exercises organized in a workout? Download now the copy that we have prepared for you, clicking the link down below.