4 vs 4 + 4 with 4 small goals
4 vs 4 + 4 with 4 small goals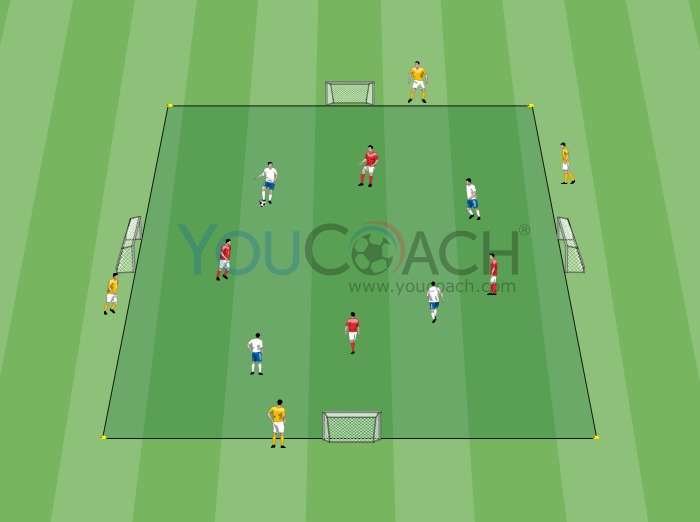 4 markers
4 small goals
8 vests (4 red, 4 yellow)
sufficient balls to ensure continuity
Playing area: 30x30 meters
Players: 12 (divided into 3 teams of 4 players each)
Duration: 21 minutes
Series: 3 series of 5 minutes rotating the teams inside the playing area (2 minutes of recovery)
| Summary | Secondary Objectives |
| --- | --- |
| Training ball possession and searching for space with shot at goal | Losing your marker, Pass |
Organization
The exercise consits of a ball possessing phase inside the penalty area with the teammates on the external sides supporting. The game starts from the inside with a 4 players team playing as strikers and the other team playing as defenders. The aim is to perform 10 consecutive passes inside the box before shooting. The teams play the roles in turn.
Description
This is a small-sided game with lot of chances to score, but the main objective is to maintain ball possession. Players have to work hard to clear the space and after reaching a fixed number of consecutive passes, they can begin to create set-ups to score.
Altought there are goals in this themed game, the main aspect is not connected with the number of goals, but is focused  on the passing capabilty and the capability of searching the free space inside the penalty area.
2 teams start inside the box while the other team is arranged with a player staying out of each square side
One player of the two teams begins the exercise with a pass.
The internal team with ball possession has to perform 10 consecutive passes before shooting at one of the 4 goals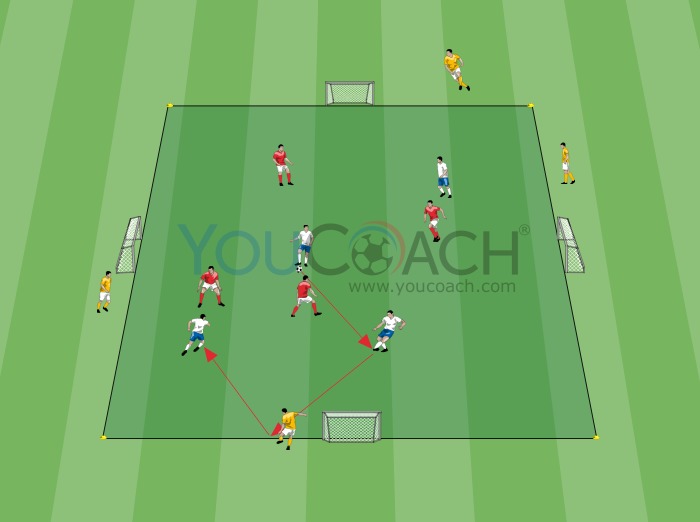 Rules
Players outside the square play as layoff with only one ball touch allowed
Players outside can be involved many times, but their passes don't increase the counting to reach 10 passes
A pass to the external players doesn't reset the counting
Players outside can move only along their side
Variations
Reduce the number of ball touches allowed to 2 touches
Players outside the square once received the pass, have to perform a throw in with the hands forcing players inside to receive and control an aerial pass
After scoring into one goal, players are forced to score on the opposite side
Reduce or increase the number of consecutive passes
Coaching Points
The team possessing the ball has to enlarge occupying the available space
The defending team has to reduce the available space as soon as possible
Defenders have to supporte each others
The attacking team has to focus on creating the space to receive the passes
The strikers have to pay attention to passing speed and precision
Once reached the fixed number of passes player have to shoot as soon as possible
The teams have to react quickly to possessing transitions