Ball management on three sides, crushing of defensive line, attacking of depth and double give and go: Messi's goal against Roma.
Let's see again ,tanks to the video analysis, Messi's goal against Roma in Champion's League, examining Barcelona's tactical game, which inflicted a heavy defeat to Garcia's team.
We cannot avoid analysing the second goal of Barça against Roma during the last round in Champions League. The game arrangement of the Catalan team and the skills of its stars must be reviewed again and again. In such an arranged team like Barcellona's, the goal is never due only to individual skill, but individuality is always the cherry on top of a high-level project.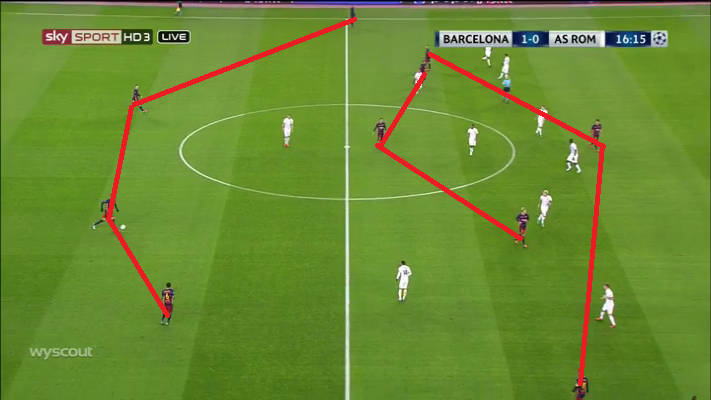 We're shortly after the first quarter and Luis Enrique's team is already winning 1 to 0. In this situation the Catalan 4-3-3 system lifts its focal point by moving forward a midfielder on the line of the three strikers forcing Roma to defend with five players in order to avoid staying with four 1 vs. 1.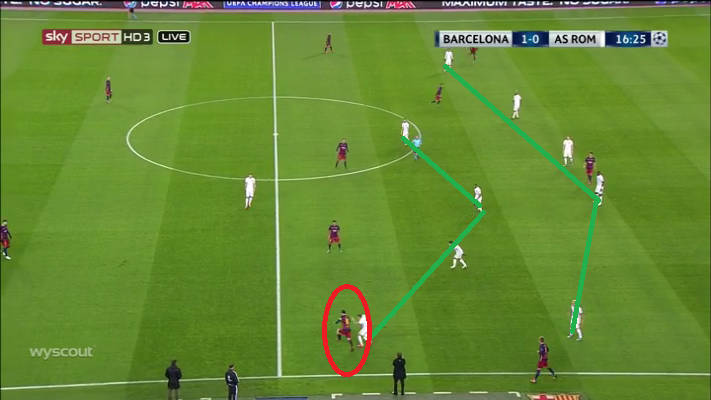 The first pass is to Messi. Roma defends well with two well arranged lines: the first one with 4 players and the second one with 5 players.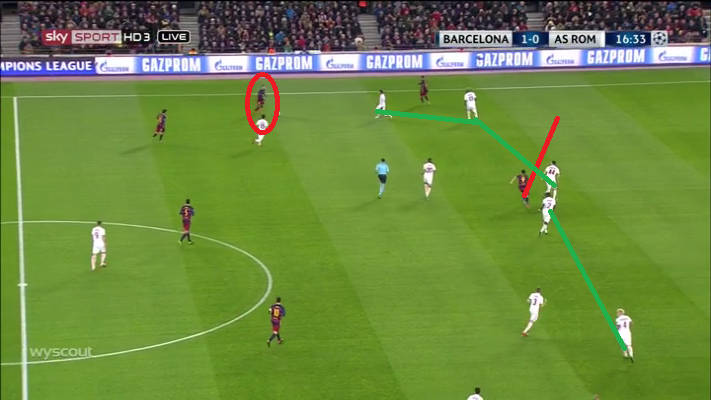 Messi has no solution. The action is developed on the left side. Here again Roma is defending well on the two lines, blocking Suarez if necessary.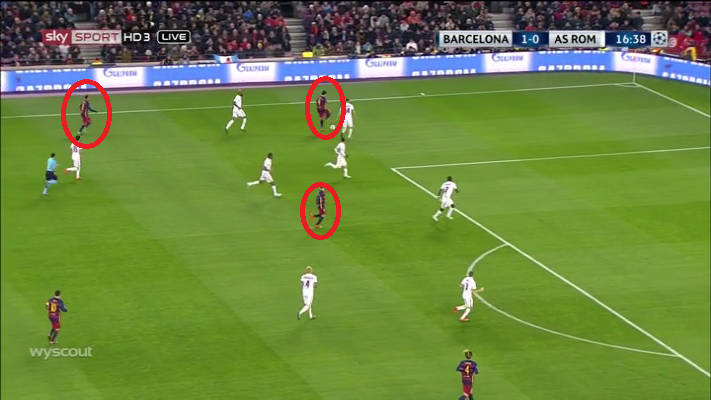 In this frame the three Catalans have no way out against five Roma's players, so the ball goes back with a heel kick firs of all to Neymar, then to Busquets.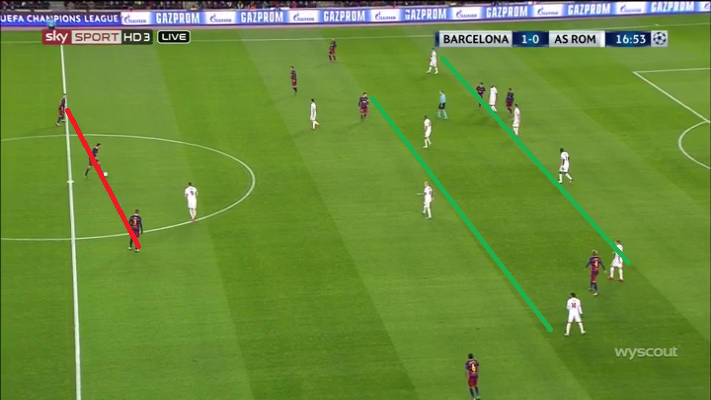 Ball to the Catalan playmaker. and Roma, moving to defend on Messi on the right side, then on Suarez on the left side, lowers getting the two defensive lines too close.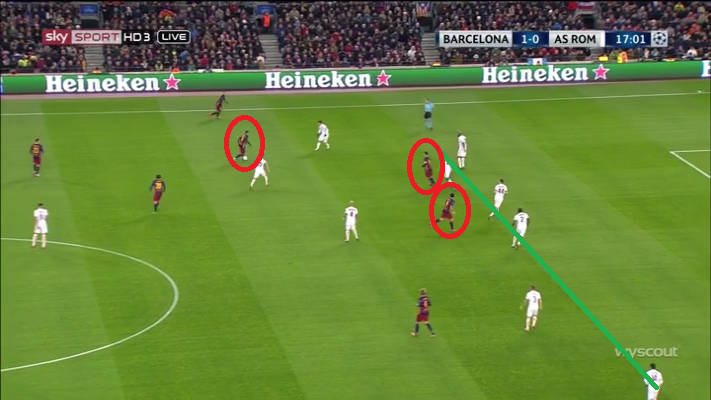 Of course, this is a Luis Enrique's plan of action: moving the ball horizontally in order to crush the opponent's defensive lines. In this case Neymar points towards Roma's defensive line that crushed until getting 6 players on the same line.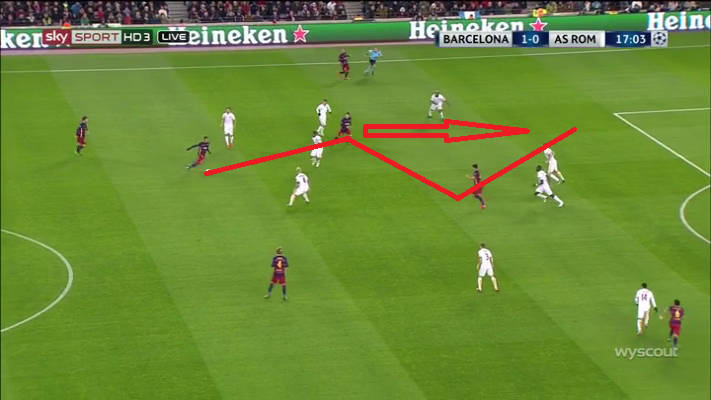 Messi encounters doing give and go with the Brazilian player and also with Suarez. The quality of Barcellona's stars makes the difference on a very high level organization. Team.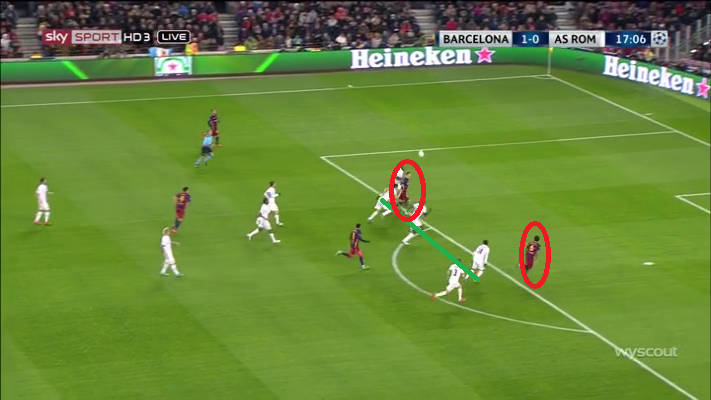 The second penetrative pass places Messi face to face with Szczesny, but the action is so effective that two players are over Roma's defensive line.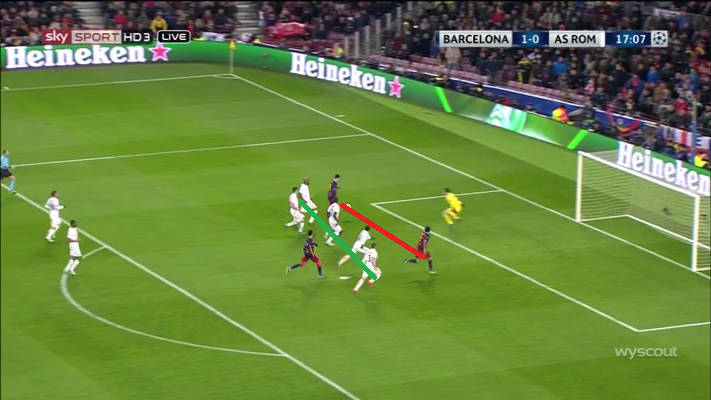 The Argentine world class player marks the match with a wonderful lob.