Carolina Morace, a new author for YouCoach.it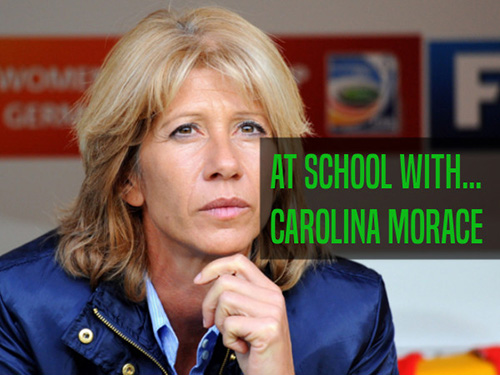 It is a great pleasure and pride for YouCoach.it to introduce Carolina Morace as a collaborator or the new column "At school with...Carolina Morace"
YouCoach.it welcomes with greatest pleasure and pride Carolina Morace as a collaborator. Carolina has decided to share with our readers her ideas and experiences gathered along her rich journey in the football world in our new column "At school with...Carolina Morace", where she will give her point of view in analysing specific issues and suggest reflection points and practical proposals.
She is the emblem of the Italian National football team, and said to be the greatest Italian female player of all times. In 2014 she was the first woman to get into the Italian football Hall of Fame.
in February 2009 she was elected as coach of Canada's National Women's team, with which she won the CONCACAF Women's Gold Cup in 2010, achieving the qualification for 2011 World Championship. In two years, with her exclusively Italian staff, she improved the Canadian National team Fifa ranking, from the 11th to the 6th position.
After retiring from active football, she acted as a coach for clubs and national teams, TV commentator and university teacher. At present she is FIFA ambassador and instructor with the task of teaching football in developing countries.
The new column will come out on the first Wednesday of each month with 360-degree views on the world of football, with specific attention to methodology and technical aspects, that will be discussed with an appropriate mix of theory and practical exercises as a result of Carolina's experience in the field.
We enthusiastically welcome her contribution and we hope that this column may become a reference point for football fans being aware that exchanging views will enrich the football movement as a whole.