Champions League Roma - Barcelona: Technical-tactical analysis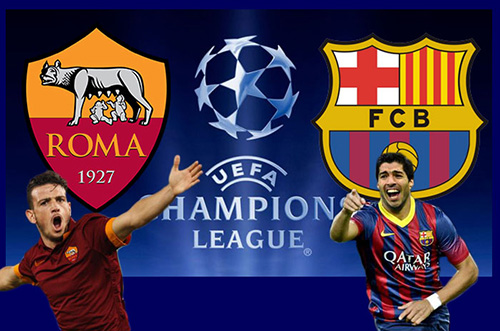 Technical tactical analysis of the debut in The Champions League of Garcia's team
Nobody ever mentioned that playing against Barcelona was going to be easy. Roma managed to get at least 1 point out of the match that took place at the Stadio Olimpico and now they can be much more optimistic regarding the European competition. This week we are going to analyze something that has aroused our curiosity. Playing with the same 1-4-3-3 system we decided to compare the midfield of a top team in Italy with that of one of the best teams around the globe. Let's have a look at the results.
Barcelona uses ball possession as a game philosophy. Specially during the creation phase, in other words, it is the one that precedes the vertical towards the goal, their ball possession can even be exasperating and it can perfectly reach the opposite area. Looking at the data and successively at the screenshot from the match we are able to realize how Barcelona encloses Roma inside their own area.

The previous figures show where spanish midfielders execute their passes. It is incredible to see how most of the well-executed passes took place close to the opposite area. Even more, during the second half (second figure) 16% of passes were executed inside the middle of the opposite area.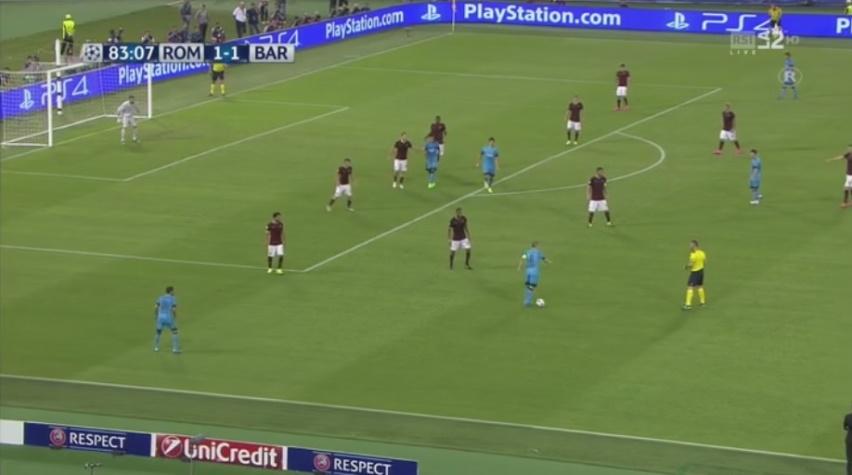 Their offensive mind can be clearly seen  in the image from the left, in which  Iniesta has the ball in the middle of the opposite area and all players from Roma, except for Dzeko, are behind the line of the ball.
This image is useful to see another aspect, which is the defensive mind of Roma. Having a close look at the picture we can see how the player that had the ball was able to move freely, without any particular pressure imposed by the player that was supposed to mark him (Keita in this case). This tactic is not strange at all, it was actually used during the whole match.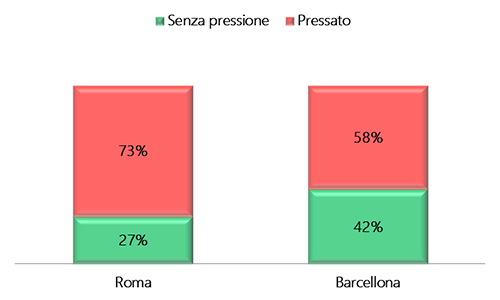 This figure confirms that tendency from Roma, they would rather await their rival without any kind of pressure in order to make Barcelona execute a long series of horizontal and even backwards passes (which at the end accounted for an 82%). Besides, this data confirm the pressure that Barcelona players use whenever they lose the ball. When being under pressure, Roma did not count on the same quality as its opponents, trying to reach the goal vertically 18 times but loosing the ball on 7 of those occasions.
To end with, we could say that the defensive match played by Roma had its reward, making Barcelona players try to find spaces in very dangerous areas, limiting Iniesta's moves and making him go more towards the outside; as for the other players, Messi & Co were forced to keep an infinite possession.