UEFA Champions League as it happened: Bayer Leverkusen (1-0) Atlético Madrid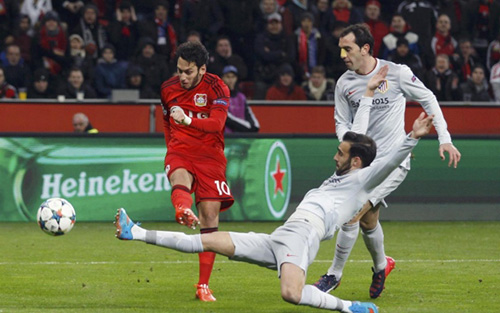 | Summary | Secondary Objectives |
| --- | --- |
| In the last 25 February 2015, Bayer Leverkusen beats Atlético Madrid not only in the not only in goals but most of all the intensity. Two key words: pressure and counter-attack. | Education |
In the last 25 February 2015, Bayer Leverkusen beats Atlético Madrid not only in the not only in goals but most of all the intensity. Two key words: pressure and counter-attack.
The first key word is revealed by the first video, where we can see that the home-team always have numerical superiority in all areas of the field (in the defensive situation). When visitors players had the ball (or recovered the ball), were confronted in situations of 1 x 2 or 2 x 3 on the side corridor (always in numerical inferiority) and clearly this was the first (and perhaps most important) by Bayer Leverkusen aspect worked for ultimate success.
The second key word is revealed by the second video, where we can see that immediately in the opening minutes as the visiting team protested an arbitration award, the Bayer Leverkusen "speeds up" quickly to the attack by providing a clear numerical superiority!
Summarizing, this game allowed us to observe how today the word "intensity " is super important. It is true that in recent times the team that worked more as "group" as "team" and with a high intensity was the Atlético Madrid... but in this game, Bayer Leverkusen gave Atletico their own medicine: defensive intensity and Maximum Speed counterattack.