How to set up a new soccer season with YouCoachApp
How to set up a new soccer season with YouCoachApp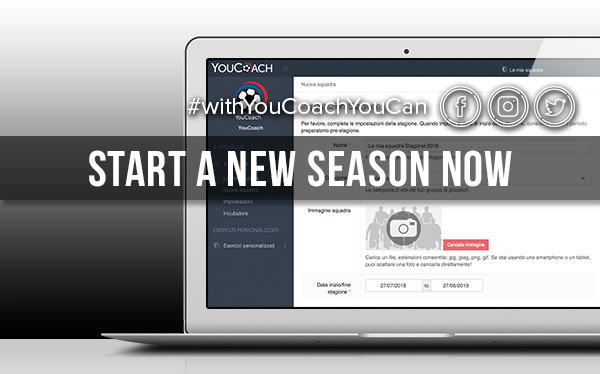 Summary
Here are the instructions to correctly set up a new season on our web app.
For all the coaches that are planning a sports season, let us recall some simple but important steps to follow in order to set up a new season on YouCoachApp.
1) ARCHIVE OLD SEASON
Before you create a new sports season, you need to archive the one that just ended. 
To do so, follow these steps:
from the menu on the left go to "Settings", then "Archive season" (last item);
at this point you need to confirm your selection by clicking on the red button "Archive".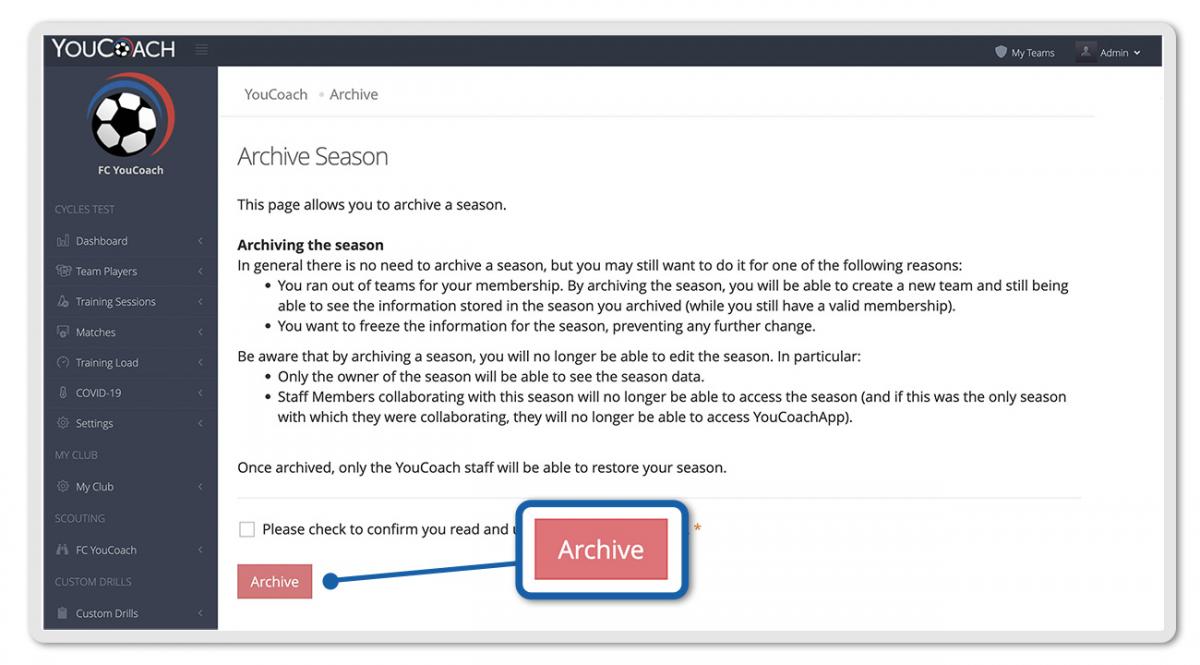 In this way, the old season will become available in read-only mode: you can still check all statistics, and data will not be lost, but you won't be able to edit it.

Thanks to a new feature, when you archive a season the name and the logo of the Club will be saved and used both on the list of archived seasons and inside the specific season's details. In this way you will be able to recognise each of your seasons. 
---
2) 

CREATE A NEW SPORTS SEASON
At this point, to create a new team in a new season you have to click on the menu on the left on "My Club", then "New Team".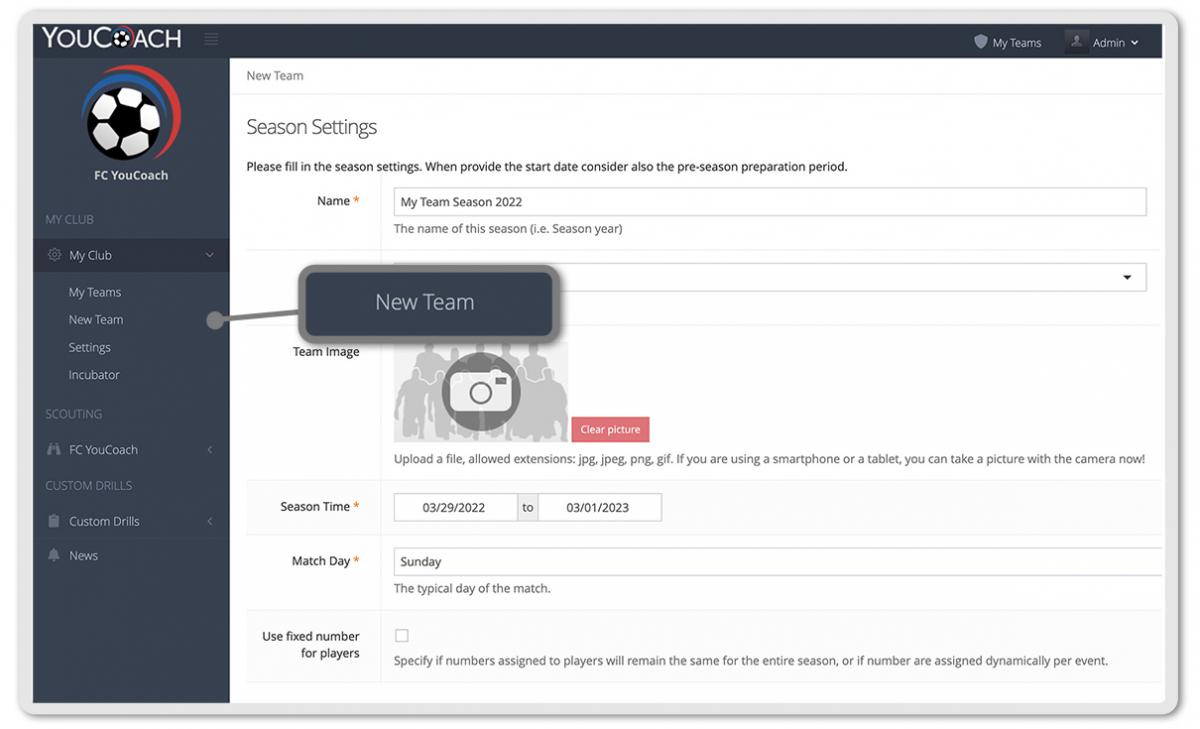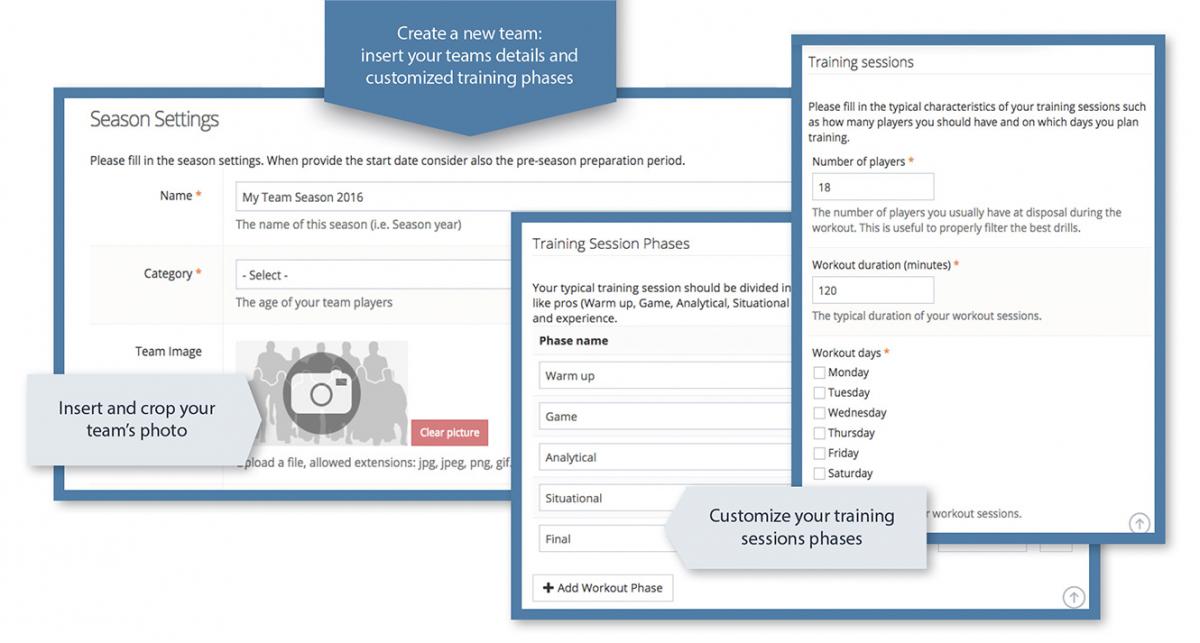 On this screen you can fill in all the details about the new season. You can add all the team's details at the menu item "Settings", such as:
Name of the team
Category (age group)
Season's starting and ending date - in order to correctly see your training cycles, we suggest you to set your starting date on a Monday, even if it is not the real date of your first training session of the season, and the ending date on a Sunday
Training sessions and match weekdays
Fixed numbers: if you check this box, players' jersey numbers will be automatically assigned even for matches' data compilation
Training session phases: default phases are warm up, game, analytical, situational, final with a default duration. These phases can be customized, edited and updated any time you want during the season, in order to adjust them to your needs; it's possible to change their name and duration. 

Since it's not mandatory to fill in all the phases with drills when creating a training session (see this article), we suggest you to put in at this moment your most used phases, the ones that will be used not so frequently and the phases managed by staff members (such as athletic trainers, technical advisors, goalkeepers coaches etc.).

If phases are edited during the season, YouCoachApp will automatically register statistics for all the phases set at the beginning of the season (collecting data for both used and non-used phases)

From this screen you can also activate pre-/post-workout and match questionnaires. Further details about this feature here. 
Click on "Save" at the bottom of the page to save these settings; you can always edit them later.
You will be redirected to "Settings" - "Cycles" page.

In this page, based on the age group you set earlier, YouCoachApp proposes a default programming, organizing the season in cycles and objectives. 
These cycles and objectives are customizable (even after this first setting), you just need to follow the same steps "Settings" - "Cycles".
---
3) DIRECT ACCESS: SET A FAVORITE SEASON
As you know, YouCoachApp allows you to keep track, from season to season, of all your work. To link every access to the current season, you need to set it as your favorite. Here is how to do it:
click on "My teams" to see the list of all your teams, current and archived; you can use the "Hide archived seasons" button to filter active and past seasons;
from the list click on the star that corresponds to the season you want to set as favorite. If the star is colored, the setting is done.
You can always change the direct access team by repeating these steps and choosing another one.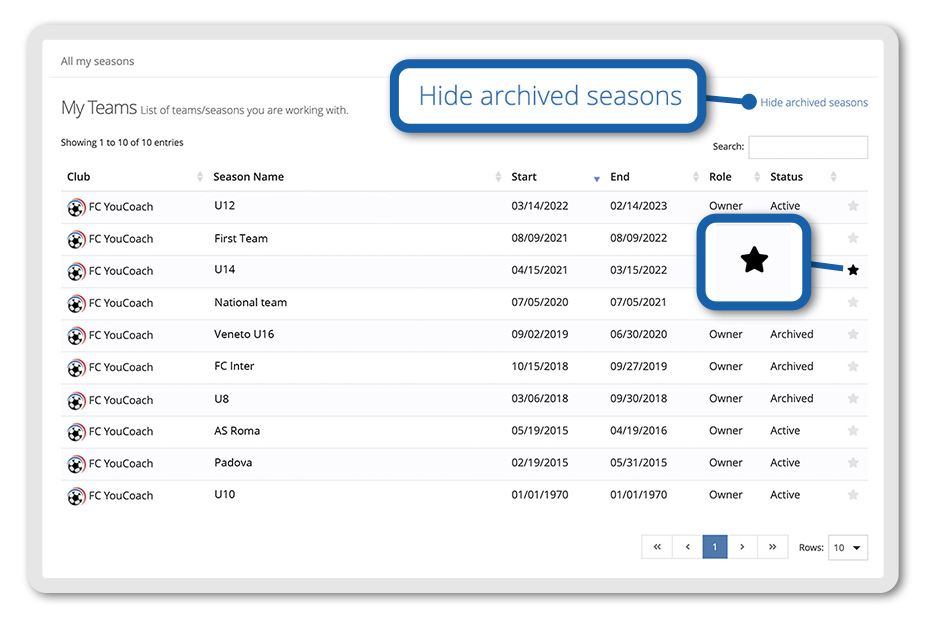 ---
4) IMPORT PLAYERS FROM PREVIOUS SEASONS
At this point you can update your team players: players' personal profiles created in previous seasons can be imported in the new season.
Go to the menu item "Team players", click on "Show all players" then click on the button "Import from other team/season".

Remember that YouCoachApp allows to interact with players and share with them training sessions' drills, evaluations and statistics about them.
To give access to players, you need to go to the menu item "Team players" on the left, then click on "Players Access".
After clicking on each player's profile, click on the button "Edit access": then check or uncheck the settings on this page.
---
5) USE CUSTOM DRILLS
"Custom drills" section on YouCoachApp represents your digital notebook. It's separated from seasons: the drills you save in this section are always available, editable and usable to prepare workouts for all the teams.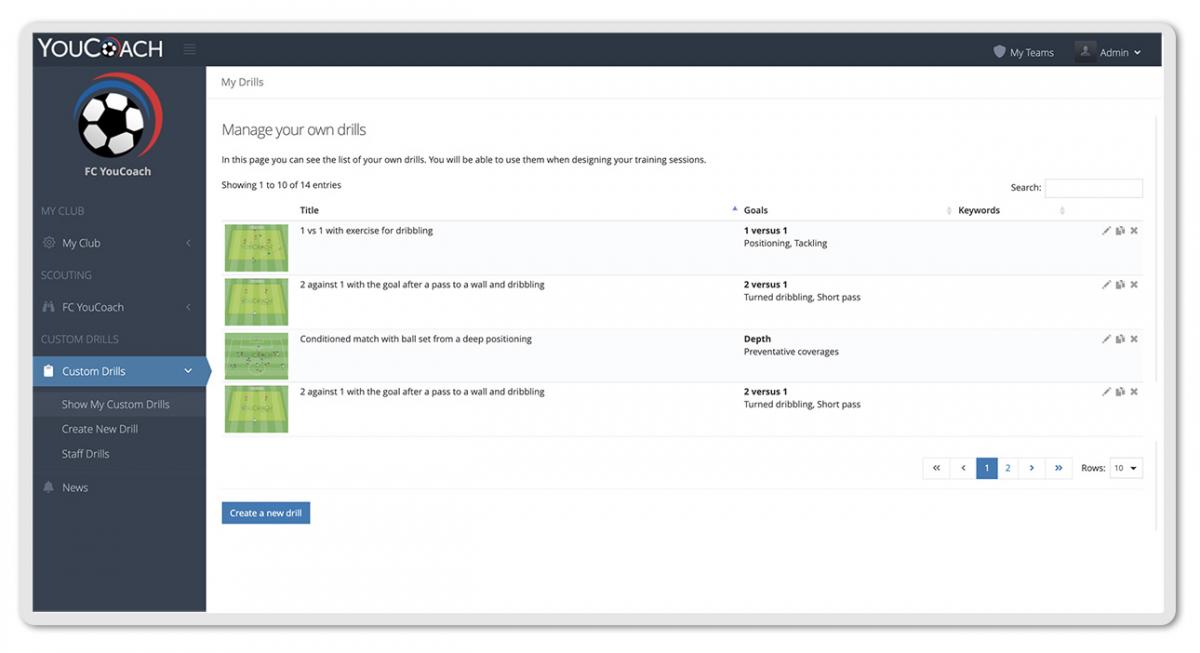 Remember that this phase is fundamental to ensure that the app can guide the coach towards the best drills to suit the objectives (
find out more about the automatic filter here
), to process season's statistics correctly and to manage all the details about the team.