5 against 2: Training centre midfielders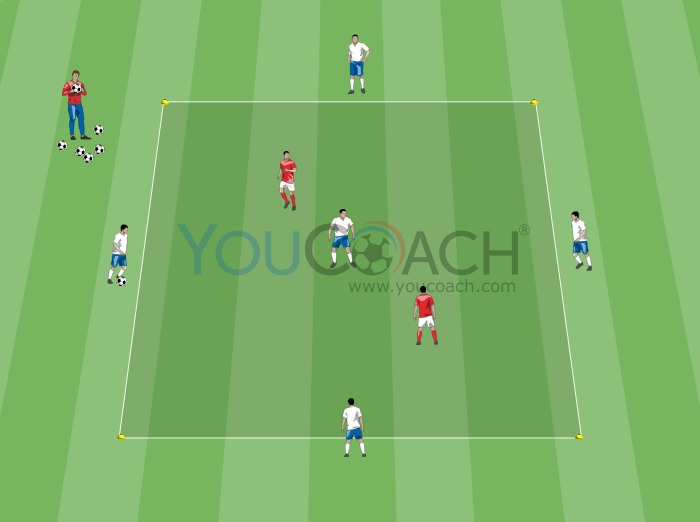 4 markers
Sufficient balls for continuity
2 vests
Playing area: 15 x 15 meters
Players: 7
Duration: 14 minutes
Series: 2 of 6 minutes with a 1 minutes pause of active recovery
Organization
Players get divided into 2 teams: 5 (4 outside and 1 inside) against 2 (both of them midfielders inside the square)
5 minutes sessions separated by an active recovery
Description
The 2 midfielders go inside the square.
The team that consists of 5 players starts passing the ball.
The player from inside the square will be the support for outer players, they will have to avoid midfielders and give back the ball as soon as possible.
The 5 outer players must prevent midfielders from going out the square once they recover the ball.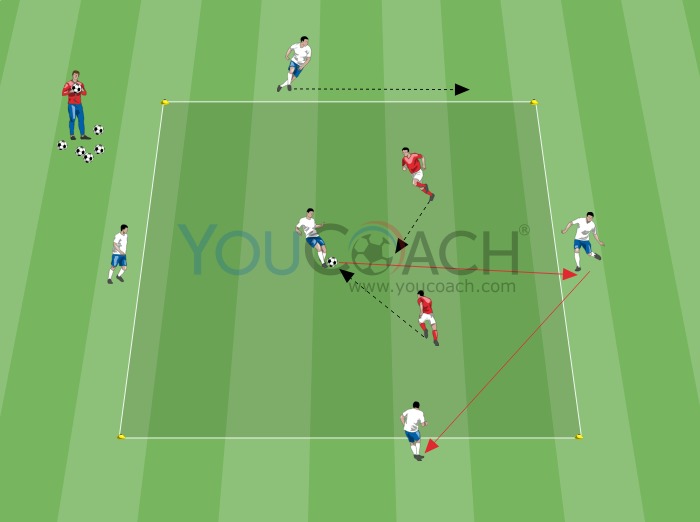 Rules
Place 4 outer players on the 4 sides of the square, they can get in the square
The 2 midfielders have to recover the ball and take it out as soon as possible
If the midfielders recover the ball and get out of the square then they score 1 point
If players with ball execute 5 consecutive passes, they score 1 point
After 5 points, 2 players get in the square and swap positions with the midfielders
Variations
Perform the exercise at 2 touches
Make it mandatory for players to perform oriented controls
The supporting player must play at 1 touch
Once the supporting player has given back the ball, they swaps positions with their teammate.
Coaching Points
Work on the pressing movements of midfielders
Encourage midfielders to pass the ball at first touch
Outer players have to be moving continuosly, in order for them to offer more options to the supporting player
Midfielders must cover the possible trajectories of the pass
Adequate time of execution and recovery
Transitions from possession to non possession of the ball
Modify the dimensions of the pitch based on players skills