Sunderland's dead ball situations: Samuel Allardyce's greatest asset A throw-in play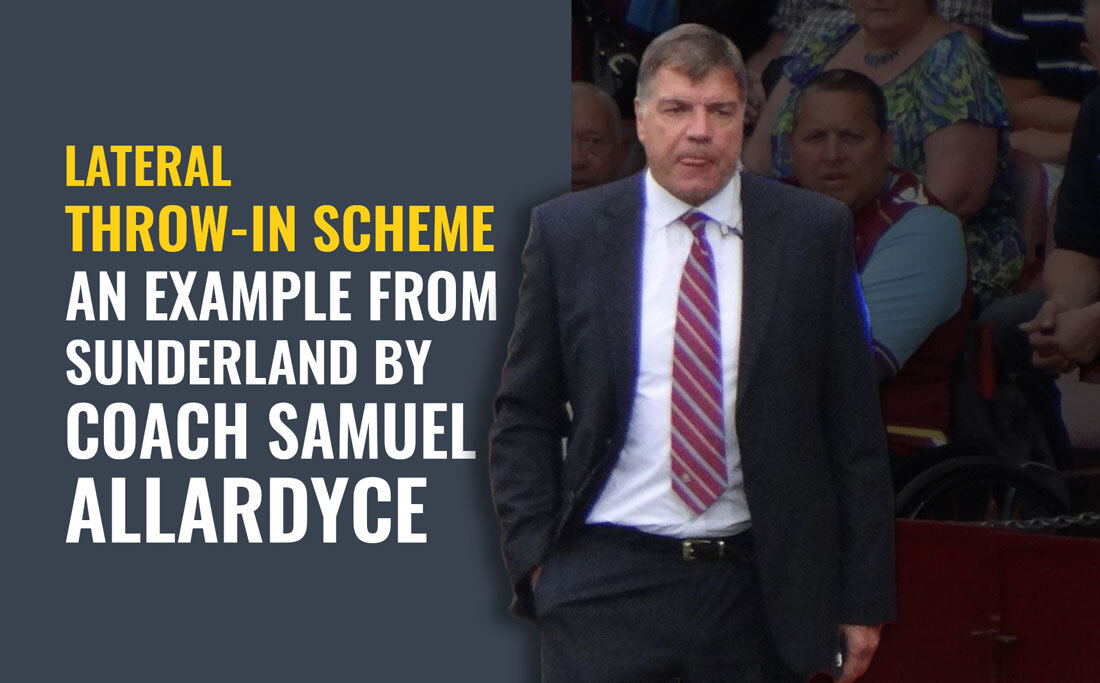 Throw-in play leading Samuel Allerdice's Sunderland to score
Dead ball situations represent an increasing portion of the total amount of goals scored by the professional teams of major European leagues. From this point of view the Sunderland team coached by Samuel Allardyce is one of the best organized and prolific teams of the British Premiere League with as many as 12 goals scored from dead ball situations.
In this article we are going to analyse a throw-in play in the opponents area that leads Van Annholtl to score. The opposite left wingback scores after an insertion.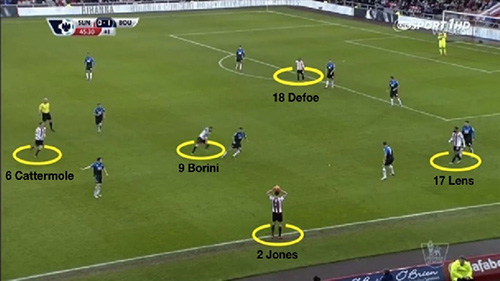 The starting deployment is of five players close to the ball as follows:
N.2 Jones ready to start the play with the ball in their hands
N. 17 Lens positioned along the line
N. 9 Borini in central position
N. 6 Cattermole to support
N. 18 Defoe on the edge of the opponent area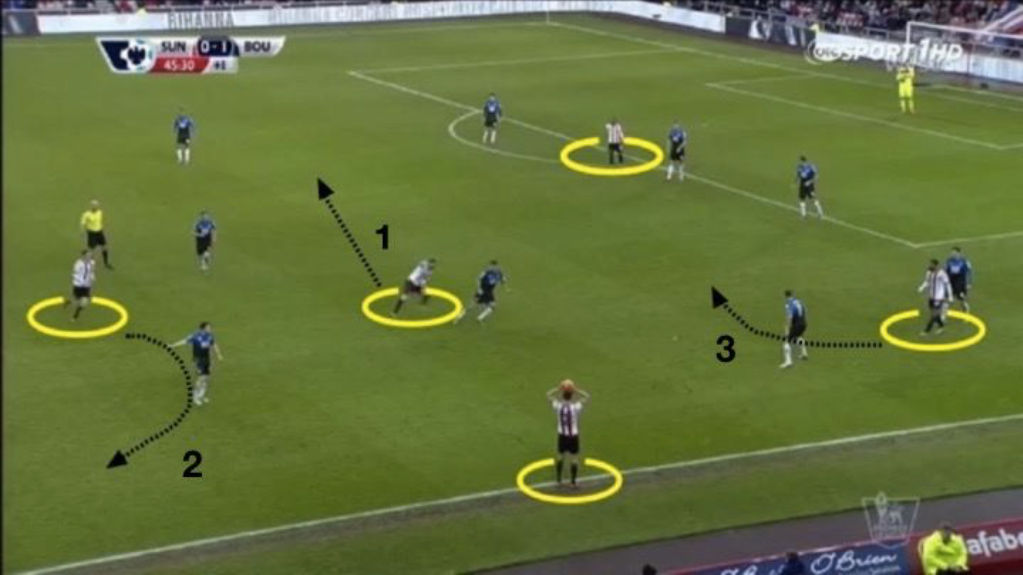 The throw-in scheme consists of three main moves in three different times:
N.9 Borini after a series of feints leaves the throw in zone and runs to the field centre.
Nr 6 Cattermole gets close to the ball with a crescent movement to take position to support the thrower
N.17 Lens with a crescent movement gets to the centre to receive the ball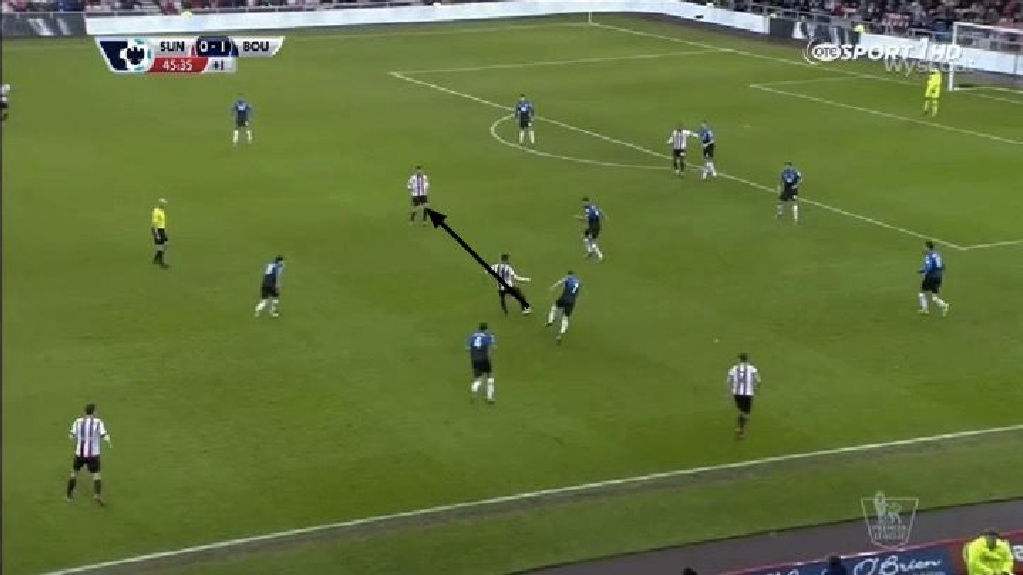 After receiving the ball Lens skilfully controls and drives the ball towards the centre field  and creates the pass line for Borini who in the meantime has occupied the free space in the central area.
Borini receives the ball undisturbed and succeeds in performing an oriented control. In the meantime, the insertion of Van Aanholt from the opposite side is perfect with a run behind his direct opponent.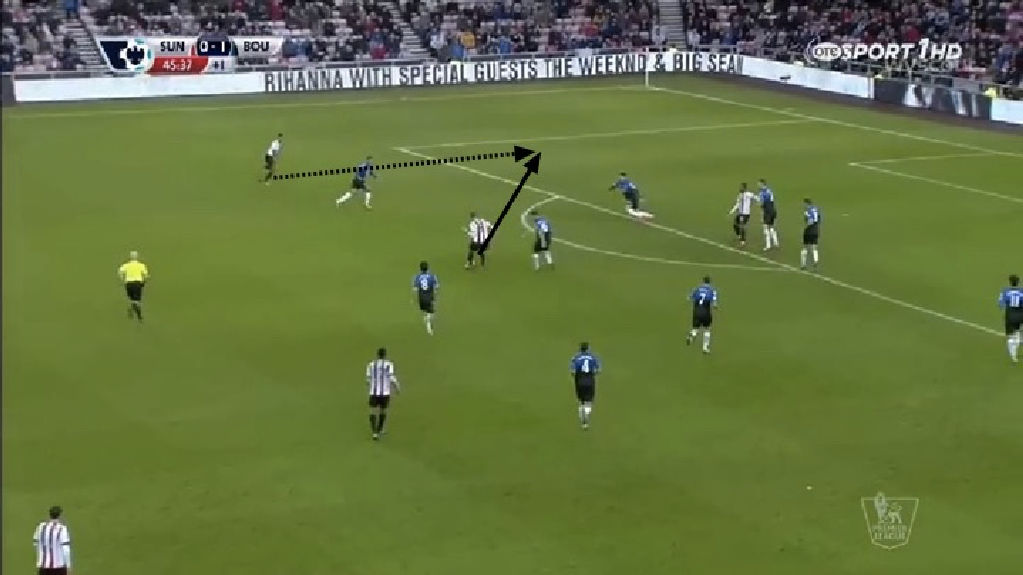 Borini skilfully passes to his teammate who is already in advantage relative to the direct opponent.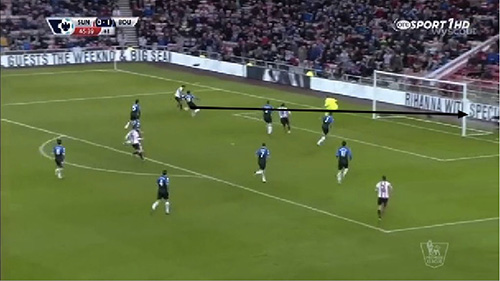 Van Aanholt is in the box of the opponents' great surprise and with a perfect diagonal shot he scores the goal.
Also a throw-in play can be effective mainly because of its unpredictability.
---
Photo Credit: https://www.flickr.com/photos/bensutherland/