4 "1 vs. 1" + 3 Neutral players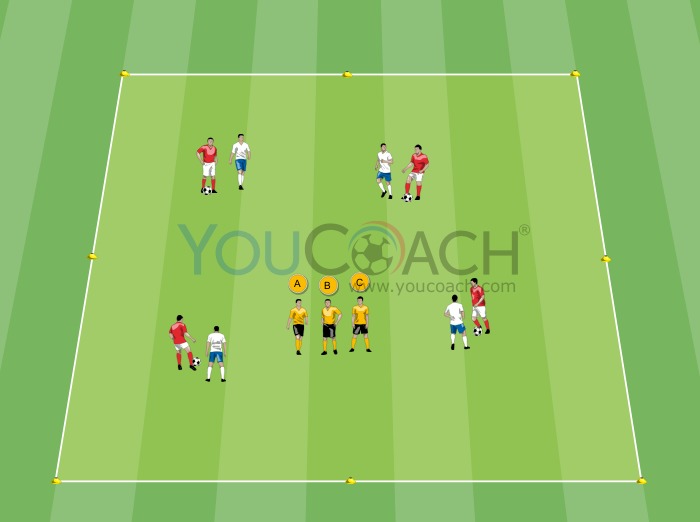 Sufficient balls to ensure continuity
Sufficient markers to outline the field
7 vests (4 red, 3 yellow)
Playing Area: 25x25 meters
Players: 11
Duration: 14 minutes
Series: 2 series of 5 minutes interspersed with 2 minutes for passive recovery
Organization
By using an adequate number of markers form a playing area of 25x25 meters. Inside, place four pairs of players and three neutral players (A, B and C). Each pair fights for one ball. 
Description
On coach's signal the four couples face up in a continuous 1 vs. 1 duel.
"neutral" players help teammates with the ball to clear the passing lines.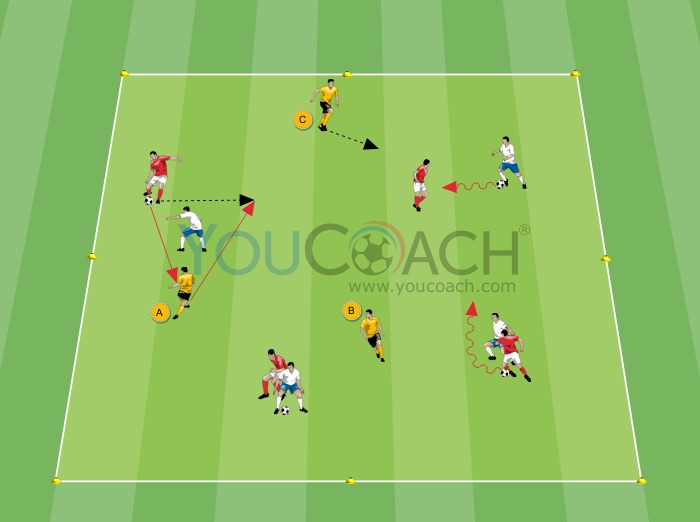 Rules
To gain one point the player with the ball must perform a passing triangle with one of the three "neutral players" (A, B, C)
"Neutral players" have a maximum of 2 ball touches (control and pass) to perform the triangle
Player who suffers the triangle takes the place of "neutral", in this way all the players in turn act as neutral player
If the player with the ball overcomes the opponent with a faint or a "tunnel", they scores two points, while the defender loses one
At the end of the two series the one who scores the highest number of points wins
Variations
Increase or reduce the court, according to players age and their technical level
Play with just 2 neutral players, reducing pass-options
Coaching Points
The coach should encourage the players with the ball to always look the free neutral player
The three all-around players must constantly try to lose the marker, clearing the passing lines for their teammates
Explain defensive techniques
This drill improves fast passes, losing the marker and defensive tackling