Sprint training: Four Corners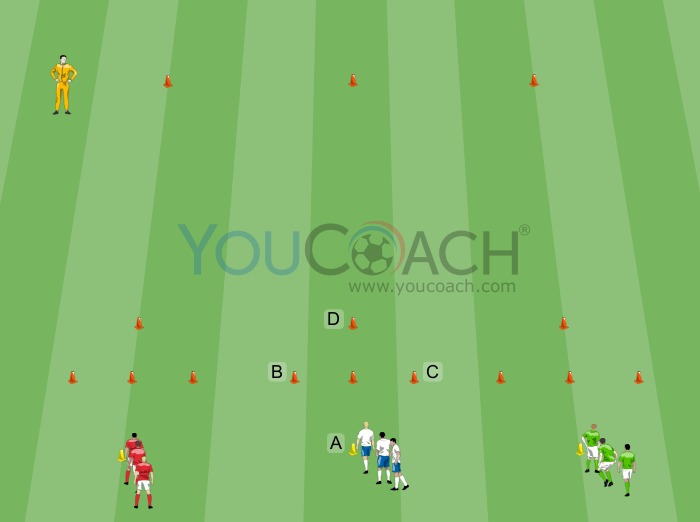 Playing area: 30x20 meters / 33x22 yd
Players: 18 (whole team divided into three groups)
Duration: 15 minutes
Series: 2 series of 4 minutes for each player, with 2 minutes of passive recovery between the series
Organization
Prepare three identical circuits with six cones placed as shown in the picture. The five cones at the beginning of the course form a 3x3 meters diamond, with four cones on the vertices ("A", "B", "C" and "D") and one in the middle. About 15 meters distant from the highest vertex of the diamond, place a cone representing the end of the course. Divide players into equal groups and place them at the beginning of each course, near the starting cone "A" (yellow in the picture).
Description
The first player of each row starts from cone "A"; running fast, player moves towards the central cone and then changes direction towards cone "B" on the left
At this point, the player goes back to the center of the diamond and runs towards cone "C"
Once touched the cone, player turns back towards the center, goes around the central cone, then moves towards cone "D" with another change of direction
From there, the player carries on running fast with a sprint up to 80% of maximum speed towards the final cone, thus finishing the course
At the end of the circuit, player slowly runs back to the beginning of the course 
When the last player in line reaches the end of the course, the first one starts again.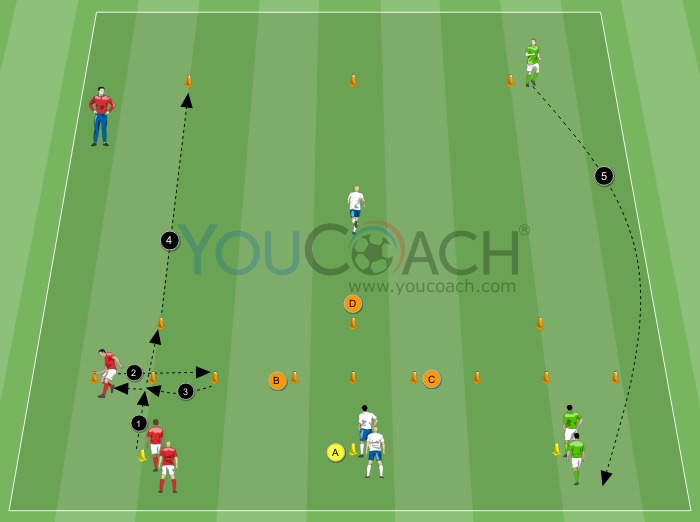 Rules
The exercise should be set as a match: the first team to finish gains a point
It is mandatory to touch the cones on the vertices
The exercise must be repeated three times for each series
Variations
Increase or reduce both spaces between the cones and recovery time, in order to manage the physical effort necessary to perform the exercise
Change the course as you like, for example, by changing the sequence of cones to be touched. Instead of "A" - "B" - "C" - "D" use the sequence "A" - "C" - "B" - "D" and so on
Increase the number of sets and repetitions to enhance the anaerobic and explosive strength work
If you'd like to focus on speed and quickness, reduce spaces of the course and give a longer recovery time
Coaching Points
Make sure players did an adequate warm-up before this exercise
Players should alternate support leg with every change of direction, so they can distribute muscle load on both legs
Pay attention to the change of direction in subjects with muscle fatigue: it could result in injuries