Speed and agility - Juventus FC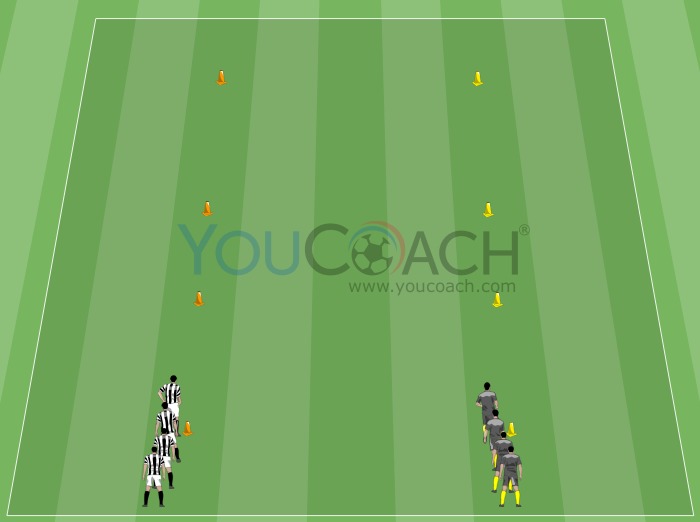 Playing area: 20 x 25 yards
Players: groups of 4 
Duration: 8 minutes
Organization
This training session works on speed, acceleration, and movement capabilities towards all directions. 
Specific drills on phisical qualities of an athlete, helping the development of his agility, in general. 
The creator of this drill has been coaching, among others,  FC Juventus, Chelsea FC and Roma AC
Two rows, 4 cones each. Each cone is distant 6 yards from another.
Divide the players into 2 groups.
Both groups place themselves in front of the starting cone of the 2 work stations
Description
All movementes ahead are of 12 yards, all movements back are of 6 yards.
Two consecutive repetitions for each player, then he walks back to the starting cone (to let him recover)
Players start from the first cone and accelerate towards the third one, 12 yards ahead
Once at the third cone, players stop and run back to the previous cone (the 2nd one), 6 yards backwards
Then players run ahead to the fourth cone, 12 more yards ahead
Running 'back and forth' complete each repetition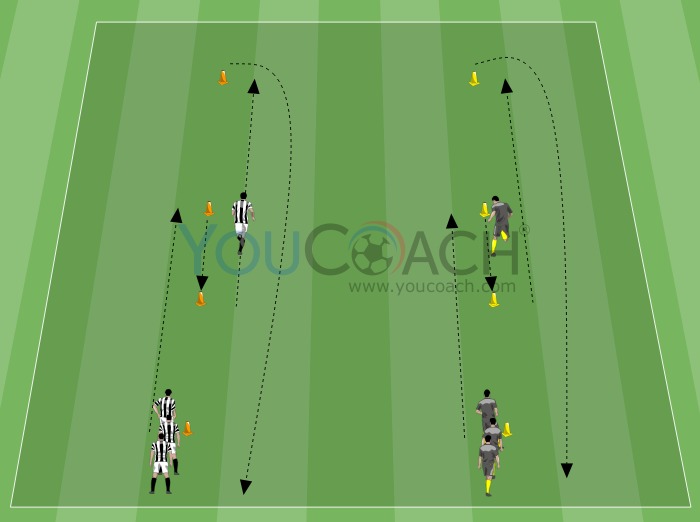 Rules
Each player starts the drill once his mate before him has ended his repetition
Variations
After 2 repetitions, players rest for 2 minutes. The following repetition has one more step : once arrived at the last cone, players must turn around (180 degrees) and repeat the drill in the opposite direction. 
After 2 repetitions and the appropriate recovery break, the course gets tripled.
Coaching Points
Keep intensity high
Pay attention to the running technique and to the movements in the changes of direction
Efficiency of the movements
Total duration of this drill should not exceed 7/8 minutes, including recovery time