Integrated physical conditioning: duel 1 vs 1 with 4 bouncers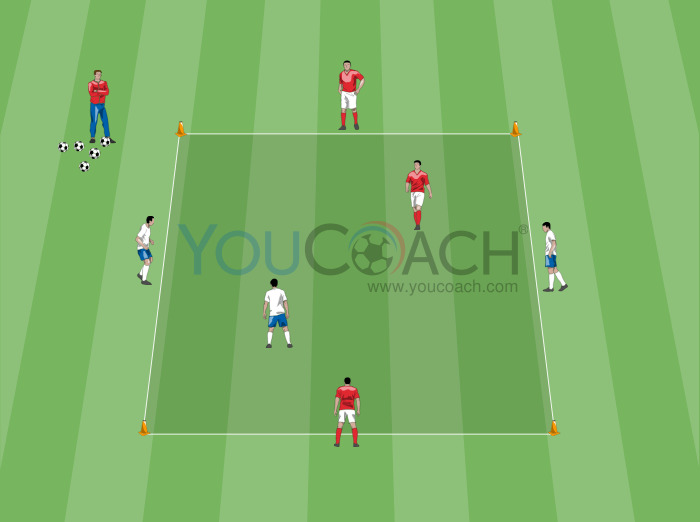 Playing area: 10x10 meters 
Players: 6 
Duration: 12 minutes
Series: 3 series of 3 minutes interspersed with 1 minute of active recovery (juggling in pairs)
Organization
Form a 10 meters side length square using the 4 cones. Inside the square stay a "red" player and a "white" one. One player stays near each side of the square to perform flank-play, (two "reds" and two "whites") as shown in the figure.
Description
The exercise starts when the coach throw the ball into the square
The player who wins the ball, starts a duel 1 vs 1 with his opposition
The player who carries the ball, can make use of the bouncers with the same color vest
The players who are bouncers can move along their own side only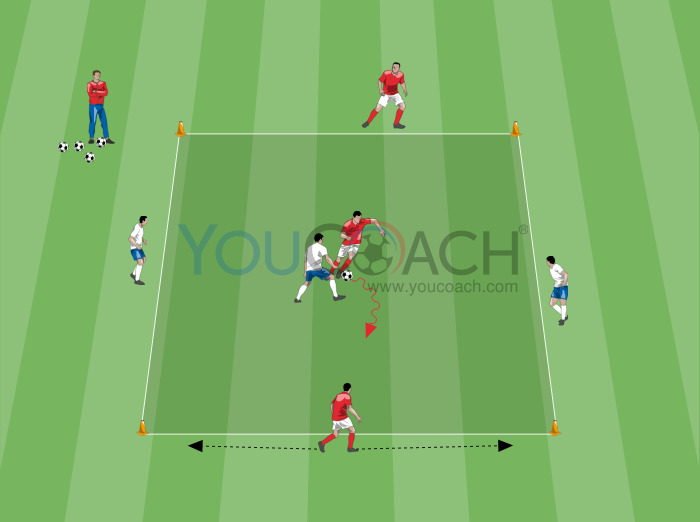 Rules
The duel lasts maximum 60 seconds
After 60 seconds, one "red" and one "white" player replace the two player who have finished the 1 vs 1 duel 
This rule about rotating positions, lasts for the entire duration of the three series
The players who are the bouncers, have a maximum of 2 touches 
Variations
During the 1 vs 1, the players have a maximum of 3 touches and they're forced to pass to the bouncers
The players who are the bouncers, have a maximum of 1 touche
Enlarge or reduce the field sizes, according to the age and technical level of your team
Reduce the number of ball touches to increase the intensity of the practise
Coaching Points
Encourage the duelling players to maintain an intense rhythm during the 60 seconds
Pay attention to the players who are bouncers, that have to do the correct movements to create the lines for the pass
Stimulate the player in thinking before receiving the ball; in modern soccer think ahead each play, it can change the game
Stimulate the intensity in pressing: always attacking the ball!