Aerobic power - Work in the square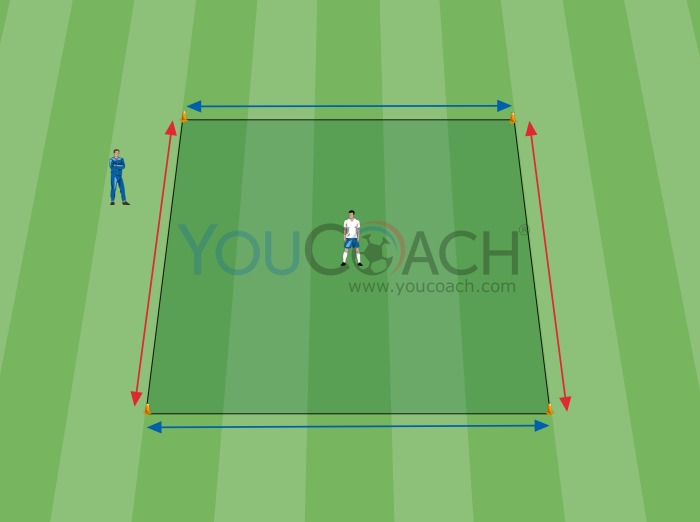 Playing area: 5x5 meters
Players: 2
Duration: 6 minutes
Series: 2 series with 4 repetitions (20s) and a 1 minute pause of recovery between series
| Summary | Secondary Objectives |
| --- | --- |
| Fixed course for an agility exercise for the legs | Quickness, Cognitive |
Organization
This exercise helps players improve their agility, making them follow the instructions of their coach. The concept is very simple but its effect on players is to behold. Not only does the athlete's movement along the pitch improves, but also the ability of understanding  external signs, processing data and reacting in the proper way. Coordination is also trained, which is soccer is also fundamental (Let's think about shooting to goal for example).
Description
The active player (P) goes to the center of the area
When the coach indicates a particular cone, the player must reach it as soon as possible
If P has to go to a cone that is right in front of him, they must sprint forwards
If P has to move to a cone that is to their right or to their left, they will do so in a sideways race or with the race typology indicated by the coach
To move toward a cone that is behind the player, they will have to race backwards as fast as possible
Each race lasts 20 seconds. Do 2 series of 4. Increase race timing depending on the age of the players.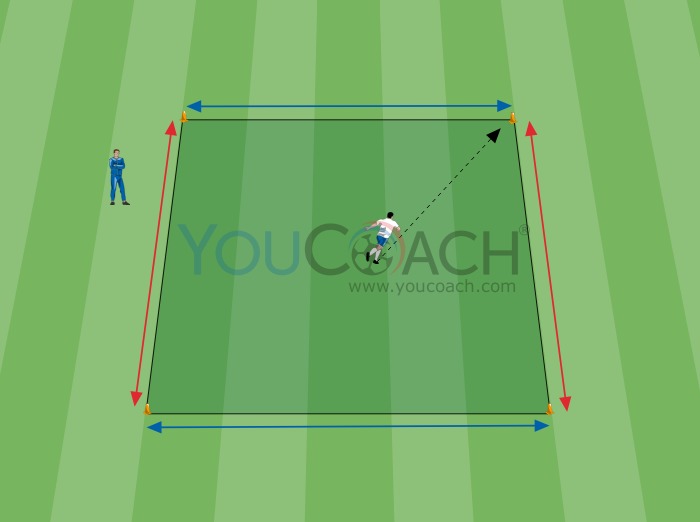 Variations
Start the first two races, in each series, with elastic resistance bands between the knees to make it much more difficult to move
Take way the bands for the last two series
Players can do the exercise more than one at a time, trying to avoid themselves in case they have to reach the same cone
Coaching Points
Focus on the quality of the movement before anything else and then on the speed
Keep a high intensity rhythm. Indicate the next cone before the player gets to the first one
Focus on the technique of the race
Keep the adequate recovery times to the age of the players